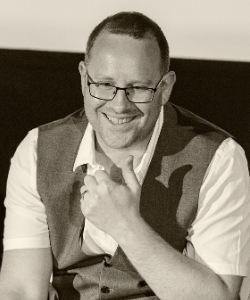 Kieran Rose is a published Writer and International Public Speaker whose essays at www.theautisticadvocate.com have been read by over a million people and cited in numerous research papers.
With a background in Education and service delivery, Kieran delivers his own specialist Autism training to families and Professionals and provides private consultancy for charities and organisations across the world that support Autistic children, adults and their families. An experienced international public speaker, Kieran regularly delivers paid webinars and has also guest-lectured at Universities across the UK.

He is Founder and Chair of The Autistic Cooperative , an International network and lobbying group for Autistic Professionals; and is Managing Director of the Social enterprise Infinite Autism, which supports Autistic people and families through funded partnership working in the North East of England.
Kieran is an executive board member of the Therapist Neurodiversity Collective, a US-based non-profit international network and lobbying organisation of Neurodiverse positive Speech and Language Therapists and Occupational Therapists.

He has also consulted on a number of research papers covering Autistic Masking, Autistic Burnout,  Autistic relationships, the voices of young Autistic people and Mate Crime in the Autistic community; and is co-producing research into Autistic masking  and Victimisation.
Kieran was diagnosed Autistic in 2003 at the age of 23; He is married with three children, two of whom are diagnosed Autistic. They all live in the UK with two cats and a collection of co-occurring conditions. Kieran is invested in challenging the current Autism narrative, supporting the Neurodiversity paradigm and is an advocate for the rights of all Autistic people.