Level 1 Intensive Mentorship Programs
In-Person Level 1 Mentorship:

"Hybrid" Level 1 Mentorship:

Off-site Level 1 Mentorship: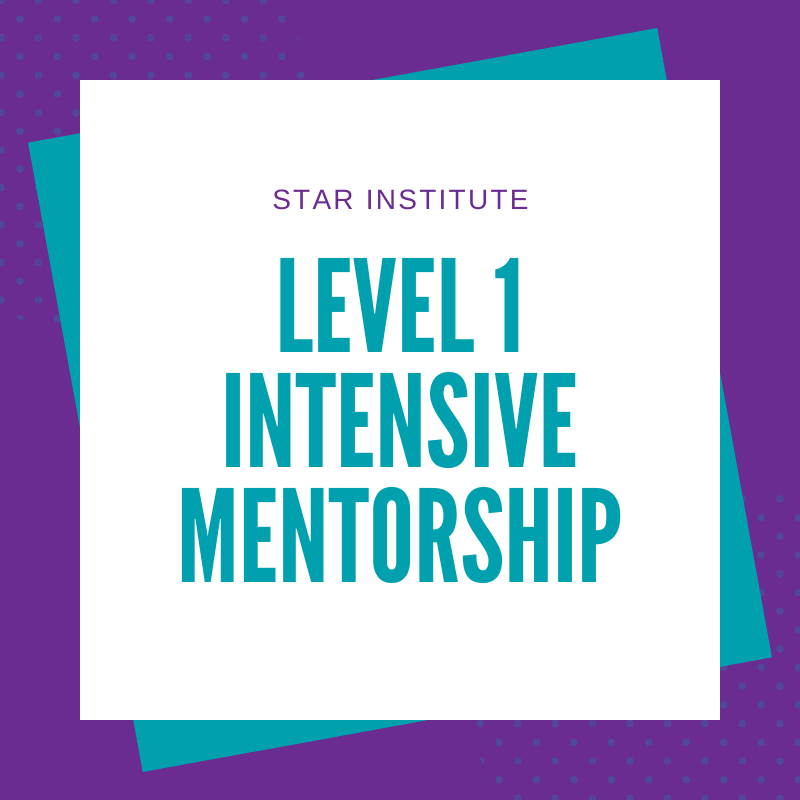 STAR Proficiency Certification
Completion of a Level 1 Mentorship Program allows participants the option to obtain STAR Proficiency Certification Level 1.
STAR Institute's Level I Intensive Mentorship is open to Occupational Therapists, Physical Therapists, and Speech Therapists. The program provides an overview of the theory and application of the STAR Frame of Reference and the STAR PROCESS treatment model. The Sensory Processing Subtypes, their presentations and differential diagnoses are explored at length. Participants will develop advanced clinical reasoning tools to apply to sensory assessment and treatment planning. The A SECRET problem-solving tool is introduced for use in practice to develop effective, comprehensive sensory life-styles for clients.
The objective of STAR Institute's Level 1 Intensive Mentorship program is to provide participants with a basic understanding of the latest research in disordered Sensory Processing and the ability to:
Differentiate subtypes of SPD
Utilize clinical reasoning tools for intervention and home adaptation developed by Dr. Lucy Jane Miller and Dr. Sarah A. Schoen
Recognize and develop realistic and functional goals using Goal Attainment Scaling
Recognize the importance of engaging families in the treatment process
Become familiar with appropriate tools to evaluate children with SPD
Observe client session videos, analyze through clinical reasoning, and discuss treatment planning
Become familiar with the STAR PROCESS Model for treatment.
Address family needs and desires
Synthesize information in an OT assessment, write treatment notes using STAR Institute's clinical reasoning approach
Communicate effectively with physicians and other members of a client's team
 
The Level 1 Intensive Mentorship course is now available in various formats!
The "Hybrid" Level 1 Mentorship program allows participants to first complete half of the course material online through self-study modules. The second half of the course will be provided live in-person or live-online.
The 4-day Off-site Level 1 Mentorship program, which may be scheduled in various locations all over the world.

Who Should Attend
The Level 1 Mentorship program is designed for Occupational Therapists, Occupational Therapy Assistants, Speech Language Pathologists, and Physical Therapists to enhance diagnostic and clinical reasoning skills. Applicants must currently work with children with disordered Sensory Processing and a minimum of 2 years' pediatric experience is preferred.
 
---
Disclosures:
STAR Institute faculty members receive a speaking fee for teaching this course
There are no other relevant financial or nonfinancial relationships to disclose
---
STAR Institute Credentials 
STAR Institute awards competency credentials to participants who demonstrate proficiency at each individual course level. Participants receive credential certificates documenting completion of the specialized training in SPD.
All participants receive an Advanced Mentored Clinician Level 1 credential upon completion. Individuals interested in achieving the STAR ProCert 1 credential are required to take STAR Proficiency Level I course within 3 years of completing the Level 1 Mentorship program.
 
Continuing Education