The STAR Treatment Approach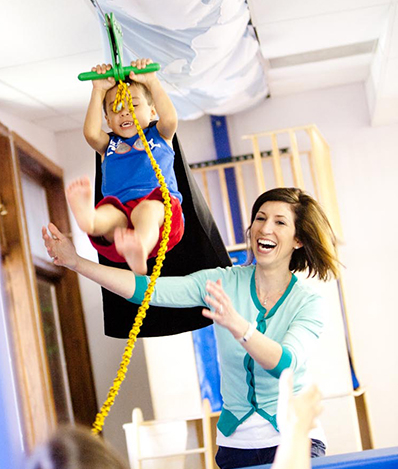 The STAR Frame of Reference
The innovative STAR Frame of Reference has taken principles of therapeutic intervention for individuals with differences in sensory integration and processing and combined them to make an innovative individually-based family-systems approach. The STAR Frame of Reference is so effective that advanced therapists travel from all over the world to participate in our Clinical Mentorships where they are trained in our assessment and treatment methods.
There are many differences between the STAR approach and traditional treatments for children with differences in sensory integration and processing. The most important ones are noted at the top of the list below.
We empower parents! Parents participate in all or most of the sessions so they can see in real time what we are doing.
We educate and coach parents! Approximately 20% of all sessions are parent education. The child is not present and we have time to really focus on making sure parents and other caretakers understand the child's SPD subtype, and how to best treat it during the natural course of daily life.
We use an intensive model! Your child will be seen 3 to 5 times a week. Recent research definitively shows that frequent repetition is needed to make brain and behavioral changes.
We use short-term therapy, usually around 30 sessions total. In most instances, children do better in short-term therapy administered more frequently, rather than once a week for the rest of their lives! Any child who needs more therapy can have two sets of 30 sessions either separated by a break or not, and of course children can come for "boosters" whenever they need to.
The foundation of our approach is arousal regulation interwoven with a strong focus on engagement and relationships.
Sensory integration therapy is a massive and highly valued element of the STAR approach. However, the STAR Frame of Reference also emphasizes a very deliberate focus on relationships and engagement, parent education, and co-regulation and self-regulation.
Families' priorities for change determine our treatment focus. Treatment starts with a 1-hour Goal Attainment Scaling session with your therapist. We then work together to narrow down measurable goals. Our approach includes before and after treatment evaluations so that your child's progress is measured.
Our therapists love kids. However, the gage of a truly advanced therapist is their ability to turn over "Magic Moments" with the child to you. Those amazing moments of joy when your child has just accomplished the impossible belong to, and are given back to you.
We have both a "top-down" and "bottom-up" approach. This includes both the neurological foundations of function  (such as sensory processing) and functional abilities (like playing with friends) and quality of life factors (such as having a peaceful home life).
We focus on play to make change happen. Play is our platform for learning to share, to take turns, to wait your turn, and so on, in other words to learn social engagement. Pretend play also increases cognitive capacity, language, and fun.
Our sessions focus on process not activities. The number of activities accomplished does not matter; only the way that the process unfolds is important. Back and forth communication, stopping impulsive actions, following directions and initiating new ideas... these aspects count.
We don't believe in the traditional "sensory diet;" instead we teach you to problem solve in the moment. The method was developed by Dr. Lucy Jane Miller, STAR Institute founder, and is called *A SECRET. (It's only a secret if you don't know it!) At STAR Institute we transfer the secrets of success with your child to you.
*No Longer A SECRET: Strategies for Children with Sensory and Motor Challenges. (2011) Phoenix, AZ. Future Horizons/Sensory World.
Therapy at STAR Institute re-ignites the joy of being a parent through focusing on interaction, engagement, and play. Intensive parent education is the key. You will not go home saying "Miss Jamie can work magic with him; but then we go home and I just don't know what to do." You will know what to do... or we haven't done our job!
Our OT staff are experts in Sensory Integration Treatment, but we combine SI with other "best-practice" approaches. The STAR Frame of Reference is based on research which has shown that our approach results in changes. Our approach is practical and results-driven and is always based on your priorities. We measure changes from before treatment to after treatment in each clients.
Above all we have fun! Fun creates positive changes that transfer home, and to school, and to life in general. Join the STAR Institute family of successful young stars!