STAR Proficiency Level II
2023 Dates: TBA
If you are interested in being placed on our waitlist please email us at education@sensoryhealth.org.
---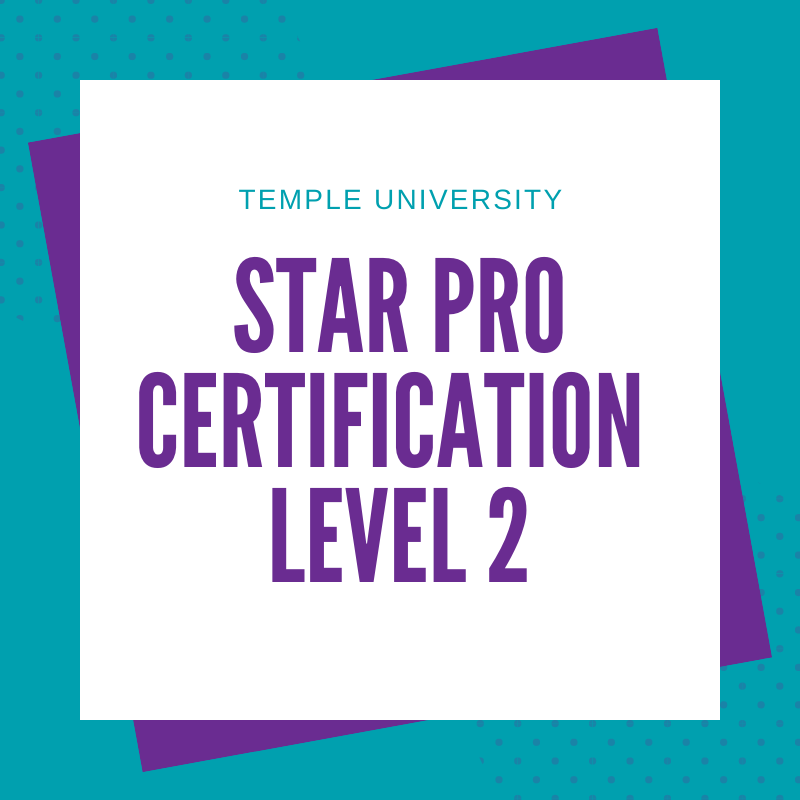 The STAR Proficiency Level 2 course from Temple University is the first step in earning the STAR ProCert 2 Credential. Upon completion of this online course, participants are eligible to apply for STAR Institute's Level 2 Intensive Mentorship program.
 
Proficiency 2 is an in-depth exploration into clinical reasoning and application to intervention of STAR's PROCESS treatment model. STAR Proficiency Certification Level 2: Advanced Clinical Reasoning will build upon knowledge established in the STAR Proficiency Certification Level I coursework, but will dive deeper into higher-level therapeutic concepts and approaches.
As part of STAR's hands-on process, participants will apply weekly course topics and concepts to their individual client caseload. Taking the course concepts beyond application, participants will record sessions with the focused concept in practice and will share to further analyze and discuss with STAR Faculty and course group. Providing additional insights and best practice strategies.
Topics will include:
Clinical reasoning
Synthesis of the STAR approach
Regulation
Social-emotional levels of the Developmental, Individual Difference, Relationship-based Model of Intervention (DIR)
Interpersonal Neurobiology of Play
A SECRET
As the first half of the STAR ProCert Level II certification process, this course will explore the essential elements of the STAR's treatment model, PROCESS, in preparation for intensive in-person clinical mentoring in STAR Institute's Level 2 Mentorship Program (the second half of the STAR Level II certification process).
Each course is limited to 10 participants
Please register early to guarantee your participation
 
Program Cost:
The tuition for this program is $1,000.
 
Learning Objectives:
Recognize and discuss the progression of clinical reasoning, giving examples of their own process in group discussions and written reflections.
Demonstrate understanding of the foundational elements of the STAR process through written reflections and group discussion of the approach, in preparation for hands-on mentoring in the STAR Level 2 Mentorship Program.
Demonstrate, through video presentations and group discussion, understanding of the importance of arousal regulation as an essential component of treatment (for clients and for themselves).
Identify successful play- and sensory-based treatment approaches, through video presentation, using DIR and sensory techniques.
Examine the why behind relationship-based therapy and play, through the lens of Interpersonal Neurobiology (IPNB).
Explore A SECRET at a deeper level, using a strengths-based approach to support families in the problem-solving process.
 
Course Components (20 Continuing Education hours):
Intervention Fidelity Project (35%)

Each student will complete an evaluation then plan and implement a 30-minute treatment session using STAR principles. Students will videotape the implementation of the treatment session, edit it down to 10-15 minutes, and post on the Blackboard site, along with an outline, 3-page evaluation report plus addendum and test scores using the STAR format provided in course materials. Additionally, students will analyze their own video and complete a short (1-2 page) paper identifying the fidelity components of the STAR approach. 

Evidence Base Practice Assignment (17%)

Students will identify a relevant evidence-based research question related to their SPD intervention. After development of the question, students will search and identify two published studies that help to answer the question and provide a paragraph summary of each of the articles. Students will post a 1 page paper with the research question and the summaries of the 2 articles.

Discussion Boards (3 points per Module/24%)

Students will participate in a discussion board for each module/week. A question is posted by the beginning of the module in the discussion board section of the Blackboard course.   

Chat Rooms (3 points per Module/24%)

Students will participate in a Chat Room for each course module/week. These are scheduled in the beginning of the semester as a class in order to account for individual schedules as much as possible. The chat rooms focus on presenting, discussing and synthesizing material relevant to the module. Attendance and participation is required to receive full credit. 
---
Who Should Attend:
This course is only open to Occupational Therapists who have successfully completed the STAR Proficiency Level 1 Course. 

Prerequisites: 
Completion of the STAR Proficiency Level I Course
---
Please contact Temple University with any questions about this course: (215) 204-4391
For technical support, please contact helpdesk@temple.edu.