Clinical Group Supervision for OTs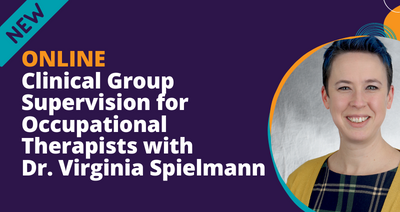 We're excited to kick off the New Year with new group supervision sessions for clinicians with our Executive Director, Dr. Virginia Spielmann. Learn how to adapt your practice for preteens/teens & motor coaching approaches for how to support kids not learning based on feedback. Clinicians will spend time working with a young, nonspeaking child with big motor planning challenges. The program focuses on bringing like-minded, sensory-based occupational therapists together in an online format to share, discuss and problem-solve in a collaborative model.
The Group Supervision Program will be held on Zoom for five one-hour sessions, allowing occupational therapists worldwide to join in the discussion and grow their clinical skills. Group supervision sessions will be held virtually on February 14 & 28,
March 14 and April 18 at 8:00a MT from 8:00 AM - 9:00 AM MT.
Cost is $40/per session. For more information and to be a part of these upcoming group supervision sessions, contact us by February 3rd at executive.assistant@sensoryhealth.org.
This program is delivered online via Zoom. Participants must have access to a computer with a webcam, microphone, and Internet access in order to participate.