Let's Get Growing | DONATE NOW to STAR's Fundraiser for Garden Beds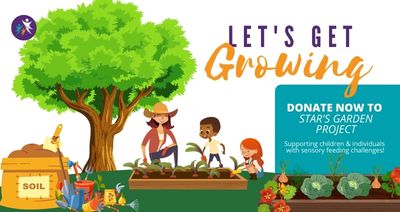 STAR is excited to build new garden beds that will help kids participating in the feeding program better understand and love the food they eat. And we thought, hey, what a better way to do this than create a way for them to be a part of the magic and grow their own foods. Check out the video at the top of the page to hear more from Nicole Pielage, STAR's occupational therapy feeding specialist, and Sophie.

Sophie, a high school student volunteer, has been working with the STAR Institute Feeding Team in planning and designing several raised garden beds. This project not only supports the children and families at STAR, but also helps Sophie earn her Eagle Scout award as part of the Boy Scouts. Sophie is ready to take the next steps in building the garden, but we need YOUR help in making this dream a reality!
 
DONATE TODAY and help grow a garden for children and families coming to STAR for feeding therapy and support. Your donation will help purchase materials needed for Sophie to "get to work" and create a fun and hands-on experience for kids to learn about where our food comes from, explore new foods, and encourage healthy eating habits.
And don't forget, you are not only supporting the STAR community, but also empowering Sophie's leadership skills and completion of her Eagle Scout badge.