Let's Talk Sense: Keys to Sensory Success | 3- Night Community Workshop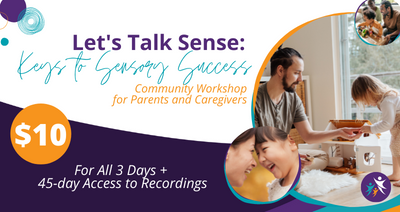 May 9-11, 2022
Nightly | 6:30 PM-7:45 PM MDT
Join STAR Institute's staff for this 3-day, open-forum discussion on the needs and issues of daily life facing the sensory community. Whether you are a parent of a child with sensory differences, an individual who identifies as having sensory differences, or a professional supporting those with sensory differences, come share in the discussion as we explore specific topics each day. Take part in the conversation as we increase our understanding of sensory health by addressing common questions from caregivers/individuals. Join breakout discussions to chat in groups about each topic and receive usable takeaways to apply in our daily lives.
---
Discussions You Don't Want to Miss:
Monday, May 9: The Sensory Connections to Successful Toilet Training and Pelvic Health
Tuesday, May 10: Supporting Successful Social Interactions for Playdates and Group Play
Wednesday, May 11: Strategies for Successful Family Meals
---
May 9-11, 2022
Each Night - 6:30 PM-7:45 PM MDT

Cost: $10 - Includes 45-day access to recordings

Scholarships are available for low/restrictive income families and individuals.

Complete our scholarship application at bit.ly/starworkshopscholarship by April 22, 2022.
---
Thank You to Our Sponsors



Due to their generous support, we are able to offer this program at a reduced rate.