Professional Workshop THIS SATURDAY! Register Now!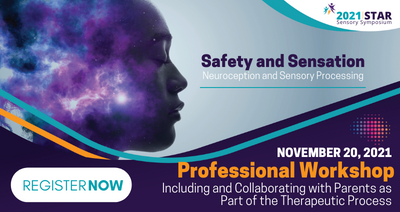 Including and Collaborating with Parents as Part of the Therapeutic Process | November 20, 2021 | 9:00 AM-3:00 PM MT
Virginia Spielmann, PhD, OTR, Amanda Binns, PhD, SLP-CCC, Reg. CASLPO and Kathleen Platzman, PhD

Led by Dr. Virginia Spielmann, Dr. Amanda Binns, and Licensed Clinical Psychologist, Dr. Kathy Platzman, this workshop will address the compelling evidence for the inclusion of parents in the therapeutic process. Co-regulatory and self-regulatory processes for the parent, child, and therapist will be discussed. Family centered strategies and simple take-away tools and tips for parent collaboration will be workshopped and explored.
---
Learning Objectives
Discuss the benefits of including parents as central to the therapy process
Identify signs of regulation and dysregulation across populations and the lifespan
Identify at least 5 priorities for cultivating effective relationship-based parent coaching
Describe at least 3 relevant parent coaching strategies that can be implemented immediately
$79 Through November 20th | Live Access + 45-day Access to Recordings

Who Should Attend:
This workshop is for every allied health professional who has ever wanted to better include parents as part of the team and therapeutic process. It is especially designed for health professionals working with neurodivergent clients (Autism, ADHD, differences in sensory integration and processing, generalized anxiety, neurodevelopmental differences, etc.).