Dear STAR Community,
In the last two weeks, we have experienced and initiated more change as an organization than we would normally experience in a year and I'm sure that the same can be said for you. As we start another week, in this new reality, I wanted to send you a report on all our activities and what we are doing with the funds that you, our community, have raised for us.
Thanks to the funds raised by our supporters and our community partnerships with Developmental Pathways Community Center Board, and Rocky Mountain Human Services Community Center Board this past week we were able to:
Offer a daily free Community Care Call, this is at 1pm MST every day

Provide discounted online Occupational Therapy and Speech and Language Therapy Small Groups for 21 Colorado based children

15 children were fully funded thanks to our community partners and attended these groups at no charge

Free Mandala Workshop aimed at adolescents and adults run by a local Colorado Artist

Discounted Education Workshop for Families - Ideation Station

Discounted 1:1 telehealth and parent education sessions were provided throughout the week

We were able to provide on-site Medically Necessary Therapy Services - emergency evaluations for infants with feeding challenges and failure to thrive
Our therapy small groups are an effective way of providing individualized Occupational Therapy and Speech and Language therapy to clients at a dramatically discounted rate compared to 1:1 telehealth during this time of economic uncertainty. Group numbers are kept between 4 and 6 children and the group get to know each other over the course of the week. Therapists tailor each session to better meet the needs of the children in the group.
---
Can you help us continue to do more. Donations from people like you, allow us to run these services and continue to reach out to children and families like these. This is so important at a time when we all feel vulnerable.
---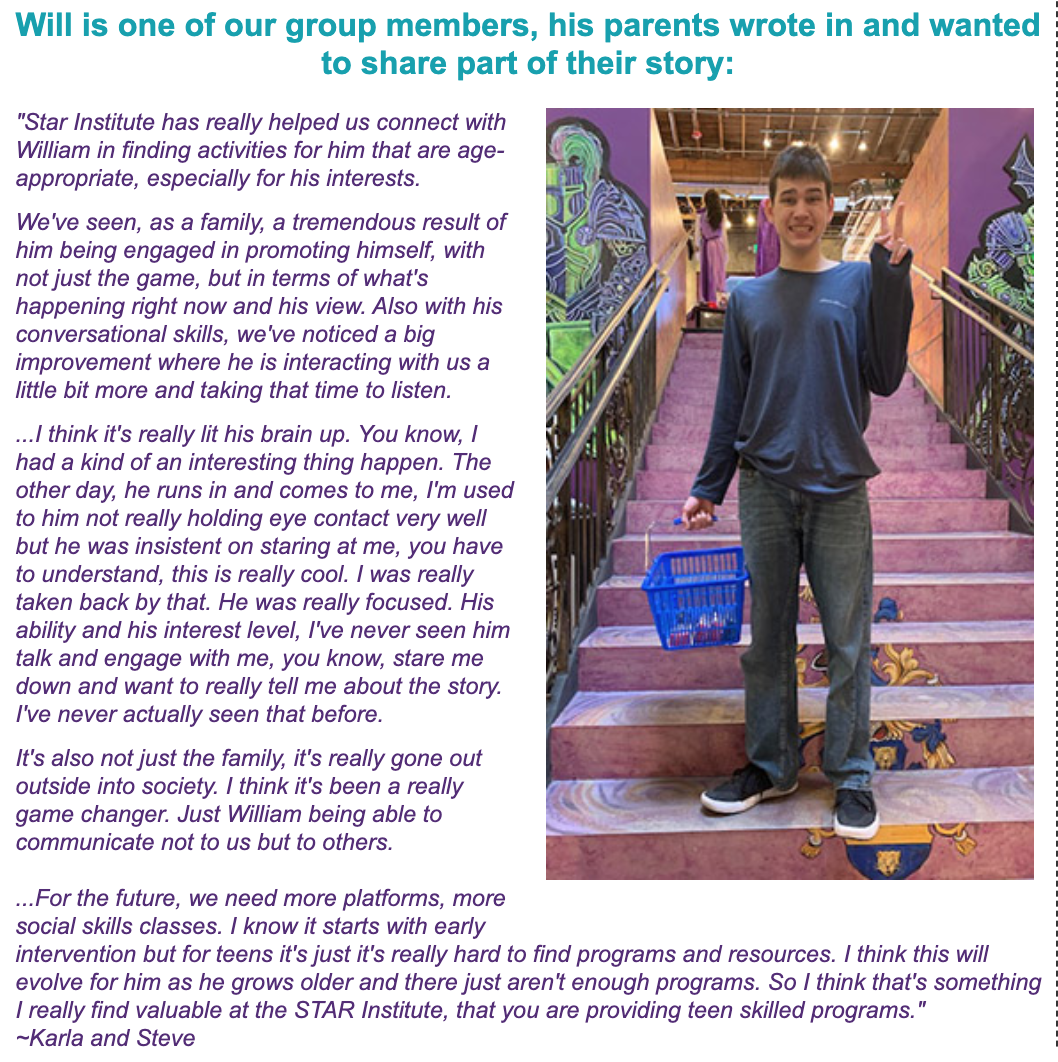 ---
Highlights of what we are offering in the coming week include:
Daily free Community Care Call, every weekday at 1pm MST - join us at this link! https://zoom.us/s/523123781

Free Parent Training for STAR Institute's Critical Core Parents - TTRPG at Home

Free Mandala Workshop aimed at adolescents and adults run by a local Colorado Artist

Heavily Subsidized 30 minutes Online Language Labs with a Speech and Language Pathologist

Two Onsite Medically Necessary Feeding Evaluations

Heavily discounted weekend family workshops offered by the education department

FREE online content offering support to parents and families.

Three free webinars over the next 3 weeks on telehealth and sensory processing.

1:1 telehealth treatment sessions and the STAR Frame of Reference

Telehealth Sessions and Nature.

Running Fun and Dynamic Group Sessions via Telehealth

Will you donate today?
Grateful for your support,
Virginia Spielmann
Executive Director