Couch Courses! - Gross Motor Play When You're Stuck Indoors
Anna Knox, OT/S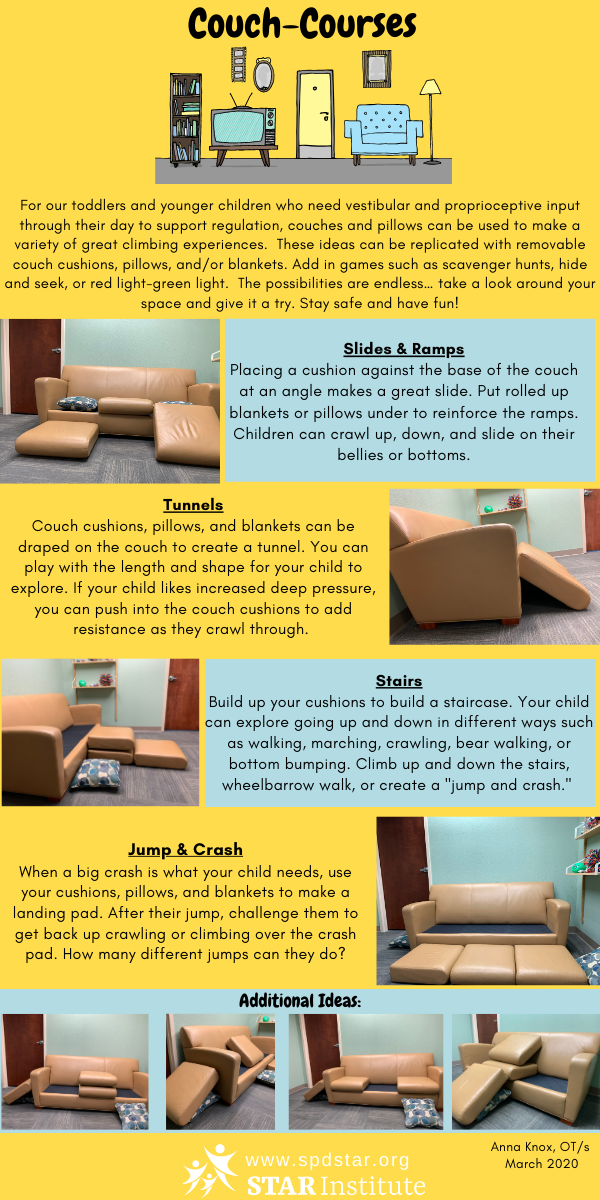 Whole body play when you are stuck indoors requires a pretty relaxed and creative approach! Here are some simple ideas that we hope will help.
Thank you Anna Knox OT/S for putting this together!
---
Grab the PDF here
---
Couch-Courses
(image: cartoon picture of a living room with bookshelf, television, door, couch, and lamp)
For our toddlers and younger children who need vestibular and proprioceptive input through their day to support regulation, couches and pillows can be used to make a variety of great climbing experiences. These ideas can be replicated with removable couch cushions, pillows, and/or blankets. Add in games such as scavenger hunts, hide and seek, or red light-green light. The possibilities are endless… take a look around your space and give it a try. Stay safe and have fun!
Slides & Ramps
(image: couch with left couch cushion on floor, right couch cushion propped to make a slide)
Placing a cushion against the base of the couch at an angle makes a great slide. Put rolled up blankets or pillows under to reinforce the ramps. Children can crawl up, down, and slide on their bellies or bottoms.
Tunnels
(image: side view of couch with cushions propped up at an angle on floor against the couch frame)
Couch cushions, pillows, and blankets can be draped on the couch to create a tunnel. You can play with the length and shape for your child to explore. If your child likes increased deep pressure, you can push into the couch cushions to add resistance as they crawl through.
Stairs
(image: side view of couch with two cushions stacked against it and one cushion in front like a staircase)
Build up your cushions to build a staircase. Your child can explore going up and down in different ways such as walking, marching, crawling, bear walking, or bottom bumping. Climb up and down the stairs, wheelbarrow walk, or create a "jump and crash."
Jump & Crash
(image: front view of couch with three cushions in front on floor)
When a big crash is what your child needs, use your cushions, pillows, and blankets to make a landing pad. After their jump, challenge them to get back up crawling or climbing over the crash pad. How many different jumps can they do?
Additional Ideas:
Image: front view of couch with one cushion propped on floor against arm rest, two cushions stacked in middle.
Image: side view of couch with one cushion propped on floor against arm rest, one cushion propped against back of couch to make a tunnel)
Image: front view of couch with middle cushion removed and placed on floor against arm rest to make a ramp
Image: side view of couch with cushion as ramp from floor to couch, second cushion making a ramp from on couch to top of back rest
Post written Anna Knox, OT/s
---
STAR Institute is a 501(c)(3) and the Covid-19 situation has hit us hard. If you are in a position to help please consider a $20 donation today: Donate Now