Real Games in the Virtual Space - Hanging Out With Grandparents Online
Abby Mucklow, OTD/S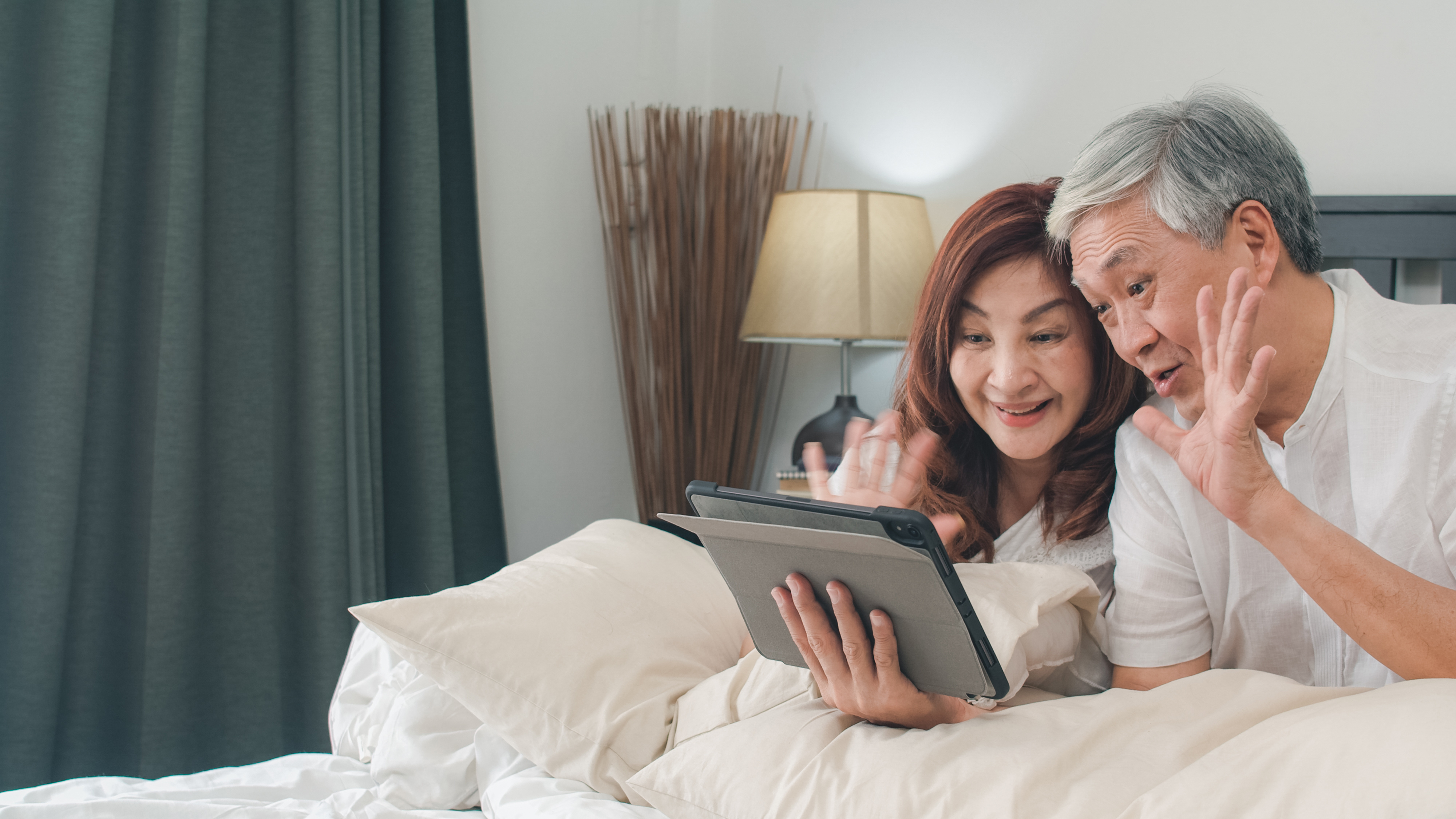 How can we keep kids engaged on web based calls with family members? They get irritably, fidgety and flighty pretty fast. How can we make sure grandparents still get to connect with their grandchildren during social distancing? It is important to remember that while we are being socially distanced, we do not have to be socially isolated. It takes a little energy and thought to get there but we've never been in a better position to stay connected across long distances than we are right now. 
Web based calls can be a great way to connect with family, especially grandparents who live in another state, or who live locally but need to follow more strict isolation precautions. Grandparents are at risk for isolation and depression, and time that children spend with them virtually can act as a preventative measure.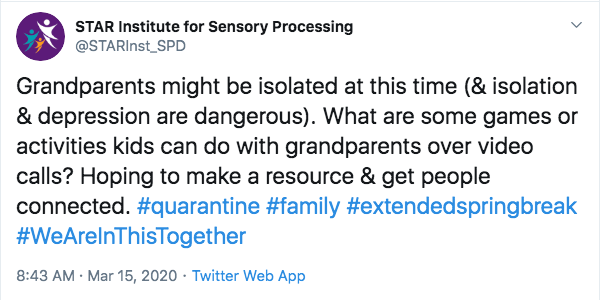 For families with young children, and especially families with differences in sensory processing, the thought of setting your child in front of a computer screen and trying to engage them may feel overwhelming or impossible. However, there are several options for games to play with grandparents virtually that can help everyone have fun! We put the call out to our community asking for ideas that work and we got a pretty cool response. Here are some ideas that might help: 
Card Games
Uno -- Both the child and the grandparent have their own set. 

Phase 10 & Crazy 8s -- If the child wants to pick up the card the grandparent discarded, the parent can help locate that number in the deck. 

Memory -- See how many matches you both can find in 3 minutes! The child and grandparent can work together to see how many they can come up with as a team, and then try to beat their score the next round. You could each have a full deck of cards laid out (easier!) or split your own decks in half.

War the Card Game - you would have to each split a deck in half 

Cribbage - sometimes called Noddy
Board Games: For some of the following board games, both grandparents and the child would have a set of the game and both sides would move both character totems through the board games for two identical boards. 
Another idea if you are using ZOOM for your calls is to use the "share second camera" option and have a camera pointed at the board game for both players to see.
Battleship - you can also play battleship with pen and paper 

Snakes and Ladders (same edition)

Candyland

Mouth Off

Yahtzee

Chess

Boggle
Paper and Pencil Games
Hangman

Charades

Pictionary

Mad Libs

Color by Number -- with each side having a dice to roll

Heads Up / Headbands (modified) -- write down a person, place, or thing (food, sports item, toy, etc.) onto a sticky note and place it on the child's screen. The grandparent has to ask questions to guess what is written on the sticky note, then switch turns for the child to guess what is on the grandparent's screen sticky note. 
Creative Games
Animal Dance -- The grandparent prints out photos of animals and assigns a movement to each animal. When the grandparent displays the animal photo on the screen, he or she says what the movement is and can even do the movement with the child if possible. This can be a fun way to get creative and incorporate active movement! Here are a few examples: 

Wiggle like a jellyfish-- wiggling arms up and down 

Hop like a kangaroo -- jumping up and down

Roar like a lion -- with hands for claws at your face

Chomp like a crocodile-- with arms extended in front coming together like jaws

Stretch like a starfish-- with arms extended up and out to the sides and legs wide

Jump like a frog-- frog jump

Run like a cheetah-- running in place

Buzz like a bee-- buzzing and holding hands up while moving torso in buzzing pattern

Stomp like an elephant-- stomping on the ground with alternating feet

Waddle like a penguin-- with arms at sides and small foot movements

Swing like a monkey-- swinging arms like on monkey bars

Soar like an eagle-- with arms outstretched to the sides

Stand like a flamingo-- balancing on one foot

Escape Animals -- Using the same animal photos, the grandparent holds up a photo of an animal on the screen, for example the jellyfish. The child has to remember jellyfish but not say it out loud, and the grandparent shows the next photo, a kangaroo. As the grandparent holds up kangaroo, the child says the previous animal name, jellyfish. The grandparent holds up the third photo, a lion. The child responds by saying kangaroo, and so on.  

I Spy -- Grandparents can find I Spy photos online and email to parents to print for the child and both can search for different items together, and show each other when they find the hidden pictures.
This is a beautiful game to play with a famous work of art - you could start with Edward Hicks, The Peaceable Kingdom (1826) OR Marc Chagall, Paris Through My Window, (1913).

 

 

20 Questions -- The child thinks of an object, but does not say it out loud. The grandparent is able to ask 20 questions to guess what the object the child is thinking of, and then they switch roles. If one player is not able to guess the item by question 20, the other player wins!

Last Letter - Choose a topic, an easy one to start with is food. The child names a word on the topic, i.e. Pizza! The Grandparent has to name a word that starts with the last letter of the previous answer, i.e. Apple! Continue on until someone pauses for too long, or makes a mistake.

Mallets-Mallet - A word association game! This silly game is from British TV in the 80s.
"Mallet's Mallet is a word association game where you mustn't pause or hesitate, repeat a word or say a word I don't like, otherwise you get a bash on the head. And it's the one with the most bruises who loses. Look at eachother and go Blaaaaaah!" Be super silly! If you lose you have to bosh yourself on the head with something super soft. Sometimes the sillier we can be the better. 

Story Cubes - Do you have story cubes gathering dust up on a shelf? Get them out and build a story together! https://www.storycubes.com/en/comment-jouer/ Don't have story cubes - don't worry there's an app for that! Click here
---
Here are some resources for online games you can play with friends: 
https://lifehacker.com/you-can-play-these-games-online-with-friends-1842347093  
---
Thank you to: Emma Bishop, Robyn Chu, Carrie Dishlip, Dr. Steph Driver, Fiona Elliott, Disha Kadakia, Crystal Merrill, Abby Mucklow, Carla Sartor, and Serena Suman
---
STAR Institute is a 501(c)(3) and the Covid-19 situation has hit us hard. If you are in a position to help please consider a $20 donation today: Donate Now