Two Nonprofits Join Forces to Support Adolescents on Autism Spectrum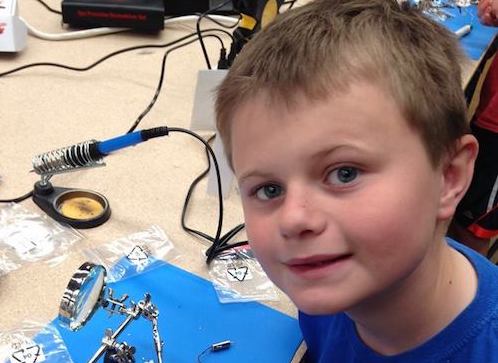 STAR Institute for Sensory Processing Disorder (SPD) and T.A.C.T. (Teaching the Autism Community Trades) are two Colorado nonprofits who have partnered to create a series of respite camps serving adolescents who have autism spectrum disorder (ASD). Developmental Pathways has awarded the organizations a $25,000 grant to fund three F.U.S.E. (Fostering Unlimited Success and Empowerment) camps through 2018. STAR Institute offers premier treatment for SPD and brings expertise in social skills while T.AC.T. teaches trade and life skills to individuals with ASD and SPD with an emphasis on fostering independence and personal growth.
---
---
"This is a very rare and exciting way to see two nonprofits interact. Our partnership to create F.U.S.E. allows both of our organizations to combine expertise in a way that best serves these adolescents to find new interests and gain the soft skills to successfully participate in peer groups and future workplaces", says Dick Layton, Director of STAR Institute for SPD. The respite camps will be week-long day camps that host six students per camp ages 12-15 who have autism spectrum disorder. The camps will teach pre-vocational and vocational skills in a supportive, social, and inclusionary environment.
Each camp has a different project for participants including: building a non-motorized go-cart with a partner, building an instrument to play in a band, and crafting board games. "The intended focus of F.U.S.E. is not just about offering a respite program for families. By generating new experiences for these adolescents, we hope to foster new skills, new interests, develop social skills, and give them a sense of empowerment to participate in what hopefully becomes a new hobby or future career interest", says Danny Combs co-founder and president of T.A.C.T.
SPD is a neurological disorder that disrupts the way an individual processes and responds to sensations. The disorder can affect people in only one sense–for example, just touch or just sight or just movement–or in multiple senses. One person with SPD may over-respond to touch sensation and find clothing, physical contact, other tactile sensory input to be unbearable and/or they may respond to visual or auditory or another sensory input. Another person might under-respond and show little or no reaction to stimulation, even pain or extreme hot and cold or just may be slow to respond to sensation. SPD and ASD have a high co-morbidity rate, but are also found to be standalone disorders.
ASD refers to conditions categorized by challenges with social skills, repetitive behaviors, speech and nonverbal communication, as well as by unique strengths and differences that can occur on a range from mild to severe. 
Individuals with ASD and SPD frequently struggle with interpersonal skills over their lifetime and are often underestimated, which can lead to specific difficulty in career and relationships. F.U.S.E. aims to give individuals the ability to ignite new interests and feel empowered in group collaboration, which can lead to greater success in career and relationships.
About STAR Institute for Sensory Processing Disorder: 
The STAR Institute for Sensory Processing Disorder, a Colorado 501(c)(3), is the world leader in treatment, research, and education for Sensory Processing Disorder, a neurological condition that disrupts the daily lives of more than 4 million Americans. The STAR Institute is the premier treatment center for children, adults and families living with Sensory Processing Disorder, feeding disorders, and other sensory conditions associated with ADHD, autism, and other developmental disorders. Dr. Lucy Jane Miller, founder of STAR Institute, is widely recognized as the leader in Sensory Processing Disorder research worldwide. For more information about the Greenwood Village, Colorado clinic, visit http://www.spdSTAR.org or call 303-221-7827.
About T.A.C.T. (Teaching the Autism Community Trades): 
T.A.C.T is a 501(c)(3) that provides trade and technical skills to children, young adults and families living with Autism Spectrum Disorder. Early vocational training helps young adults before they leave high school and sets them up for long term success. Our programs are designed to empower individuals and develop interests and skills for life. To learn more visit: https://tactkids.org or call 720-460-0897.
About Developmental Pathways: 
Developmental Pathways is a 501(c)(3) nonprofit agency serving individuals with developmental disabilities/delays and their families. We are also one of Colorado's Community Centered Boards (CCB) connecting people to federal, state, county, and private funding in Arapahoe County, Douglas County, and the City of Aurora. We passionately believe inclusion is for everyone and offer services through Home and Community Based Medicaid Waiver programs, locally funded programs, and partnerships with other community organizations. To learn more visit: http://www.dpcolo.org