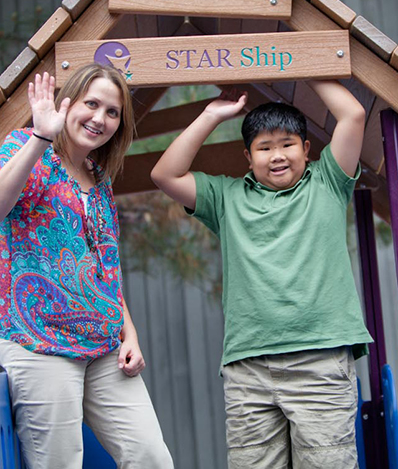 What conditions do you treat at the STAR Institute Treatment Center?
STAR specializes in occupational therapy with a relationship and engagement, and sensory integration approach for children and adults with Sensory Processing Disorder (SPD).
We also treat ADHD, auditory processing disorders, autistic spectrum and other disorders which include a sensory component.
---
How does STAR Institute differ from other clinics that treat these disorders?
Many qualities and services set STAR Institute apart:
Leadership by sensory authority and STAR Institute founder, Dr. Lucy Jane Miller
Expertise of our clinical services advisor, Dr. Sarah A Schoen
A highly educated clinical team with masters or doctorate degrees
Extensive parent education
A special intensive program for out of town clients
A multidisciplinary assessment and treatment model
State-of-the-art clinical facilities
Networked with researchers from top institutions nationwide
Development and implementation of research-based treatment strategies
STAR Institute is an international education facility
---
What exactly is "multidisciplinary evaluation?"
Multidisciplinary evaluation is a comprehensive assessment involving practitioners from several different fields.
At STAR Institute, our evaluation team routinely includes a pediatrician, a clinical psychologist, an occupational therapist, a speech-language pathologist and/or a feeding expert when appropriate. Other specialists are available on a consulting basis.
---
Why do you put such an emphasis on multidisciplinary evaluation?
We emphasize the multidisciplinary nature of our assessment process because we value multiple perspectives in offering a differential diagnosis and in developing an effective treatment program.
Multidisciplinary evaluation is based on the concept that assessing the human body and mind is a complex process in which the many systems involved are most accurately assessed by specialists in a variety of fields.
---
At what age do you start treating clients?
Our clients range from infants to grandparents.
With Sensory Processing Disorder, early intervention is helpful but not a prerequisite to treatment.
---
Do you have specialties?
STAR Institute specializes in pediatric occupational therapy for a variety of childhood disorders with a sensory component.
All of our therapists have advanced training and experience in specialized fields of sensory therapy including:
Diagnostic evaluation (SIPT, MAP, M-Fun, and many other scales)
Sensory over-reactivity, sensory under-reactivity, and sensory craving
Fine and gross motor development
Emotional dysregulation
Speech disorders and language difficulties
Feeding disorders
Social skills problems
Handwriting problems
Self care difficulties (sleep, dressing, toileting, etc.)
---
How long does it take to complete a treatment program?
The length of treatment varies depending on the number and frequency of sessions and if you are in in-town or out-of-town client. A typical program for in-town clients consists of three 50-minute sessions per week and will last anywhere from 3 to 4 months or longer if needed. The program for out-of-town clients is typically compressed into a 2-8 week program with a month break in the middle. Our program is flexible enough to accommodate your specific circumstances, so please contact us to discuss your needs.
---
What tests are you certified to administer?
Members of our staff are certified to administer the following tests:
Adaptive Behavior Assessment Scale (ABAS): Pearson, Inc.
Adolescent and Adult Sensory Profile: Pearson, Inc.
Autism Diagnostic Interview: Western Psychological Services
Autism Diagnostic Observation Schedule (ADOS): Western Psychological Services
Bayley Scales of Infant Development: Pearson, Inc.
Behavior Assessment Scale for Children (BASC): American Guidance Service
Berry-Buktenica Visual Motor Integration Test (VMI): Pearson, Inc.
Bruininks-Oseretsky Scale of Motor Performance (BOT-2): American Guidance Service
Children's Assessment of Participation and Enjoyment (CAPE) and Preferences for Activities of Children (PAC): Pearson, Inc.
Children's Depression Inventory (CDI): Multi-Health Systems
Clinical Evaluation of Language Fundamentals-Preschool (CELF): Pearson, Inc.
Comprehensive Assessment of Spoken Language (CASL): Pearson, Inc.
Developmental Profile (DP-3): Western Psychological Services
Diagnostic Evaluation of Articulation and Phonology (DEAP): Pearson, Inc.
Draw A Person (DAP): Pearson, Inc.
Evaluation Tool of Children's Handwriting (ETCH): Therapro, Inc.
Genograms of three generations of families: Genograms in Family Assessment, by Monica McGoldrick & Randy Gerson
Gilliam Asperger's Disorder Scale (GADS): PRO-ED, Inc.
Goal-Oriented Assessment of Life-Skills GOAL: Western Psychological Services
Goal Attainment Scaling: Goal Attainment Scaling: Applications, Theory, and Measurement, eds. Thomas J. Kiresuk, Aaron Smith, & Joseph E. Cardillo
Goldman Fristoe-2 Test of Articulation: Pearson, Inc.
Infant and Toddler Sensory Profile (ITPS): Pearson, Inc.
Leiter International Performance Scale – Revised: Stoelting Co.
Leiter-R: Attention Sustained, Attention Divided: Stoelting, Co.
Lindamood Auditory Conceptualization Test (LAC-3): PRO-ED, Inc.
Miller Assessment for Preschoolers (MAP): Pearson, Inc.
Miller Function and Participation Scales (M-Fun): Pearson, Inc.
Motor Free Visual Perceptual Test (MVPT): PRO-ED, Inc.
Multidimensional Anxiety Scale for Children (MASC-10): Multi-Health Systems
Piers-Harris Children's Self-Concept Scale, 2nd Ed.: Western Psychological Services
Screening Test for Evaluating Preschoolers (FirstSTEp): Pearson, Inc.
Sensory Integration and Praxis Test (SIPT): Western Psychological Services
Sensory Processing Measure (SPM): Western Psychological Services
Short Sensory Profile (SSP): Pearson, Inc.
SPD Checklists: Sensory Processing Disorder Foundation (Research Edition)
Swanson, Nolan, and Pelham IV – ADHD Behavior Rating Scale (BRS)
Test for Auditory Processing Disorders in Children-Revised (SCAN-C): Pearson, Inc.
Test of Auditory Processing Skills (TAPS): Academic Therapy Publications
Test of Variables of Attention (TOVA): The TOVA Company
The Listening Test: Dynamic Listening, Inc.
The Neuropsychological Assessment (NEPSY): Pearson, Inc.
The Phonological Awareness Test: LinguiSystems
The Social Communication Questionnaire (SCQ): Western Psychological Services
The Wechsler Intelligence Scale for Children (WISC) – IV: Pearson, Inc.
Toddler and Infant Motor Evaluation (TIME): Pearson, Inc.
Vineland Adaptive Behavior Scale: Pearson, Inc.
Wechsler Preschool and Primary Scale of Intelligence (WPPSI) – III: Pearson, Inc.
---
How much does treatment cost?
Telephone screening and an intake evaluation are provided free of charge.
Every client is an individual with unique sensory challenges and requires a personalized approach to intervention. Because of this, assessment and treatment costs can vary greatly depending on each client's diagnosis and treatment plan.
Generally, assessments will fall somewhere in the range of $600 to $2,500, while treatment typically falls somewhere in the range of $150–$165 per session.
Each individual's costs are different. Please contact us to discuss your individual needs and we will give you a better idea of what your costs will be.
Discounts and payment plans are available.
---
Do you accept insurance?
We bill insurance companies for you. If your insurance company includes the type of treatment we provide the reimbursement will be made directly to you. We accept pre-payment for services only.
---
Are payment plans available?
We realize that paying for therapy services can be a financial issue for families. In an effort to ease the burden on families, the STAR Institute offers a number of different payment options. Please see our payment & insurance page for details.
---
How do I get started?
Please contact us. Our clinical coordinator will be in touch within two business days to conduct a telephone screening. You may get started by downloading and completing our adult or child history forms.
Please contact us for assistance or answers to specific questions not listed here.