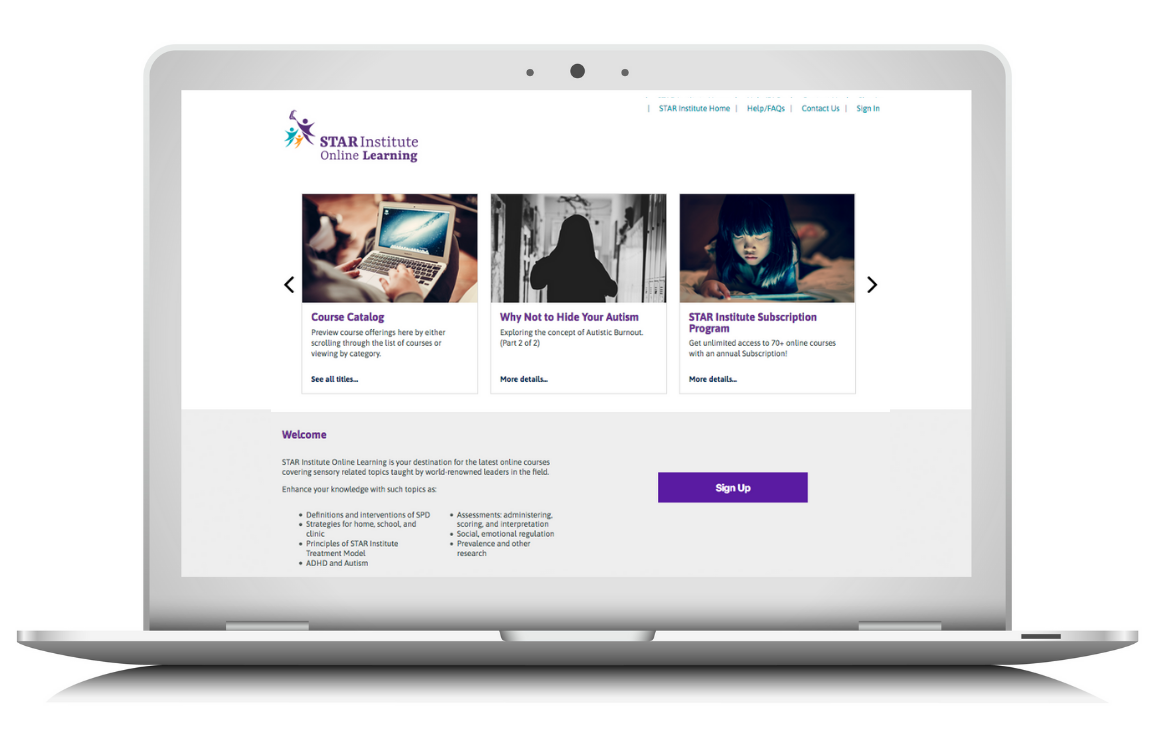 ---
2020 Monthly Webinars!
Each month we feature a new educational webinar and add it to our Course Catalog on STAR's Online Learning platform. Click here to find out more about this month's webinar!
STAR Institute Online Learning Platform - Hope and Help 24/7
STAR's Online Learning platform is your destination for the latest online courses on Sensory Processing Disorder. This site offers a rich set of e-learning courses for professionals and parents that is accessible 24/7.  
Over 70 Online Courses 
SPD Fundamentals
Definitions and intervention of SPD
Strategies for home, school and clinic
Postural Disorder, Dyspraxia, and Sensory Discrimination Disorder programs
Principles of STAR Treatment Model
---
Enhance Your Learning with STAR Institute Subscription!
Get UNLIMITED access to over 70 online courses and exclusive access to other benefits.
 
Professional Subscription | $199 annually
FREE Interactive Treatment Mentoring - Live and Online
Professionals Only. Hosted by STAR Institute therapists and faculty.
Fund SPD Research
Your subscription fee helps to raise SPD awareness and find solutions for SPD through research.
*Excluded courses for Paid Subscribers: Annual STAR Sensory Symposium, Virtual Summit, monthly featured webinars, M-FUN Assessment courses, GOAL Assessment course, Foundations of Development course, Level 1 Mentorship online content, and School-based Intensive Course online content

Parent/Individual Subscription | $49 annually
UNLIMITED access to over 70 courses on STAR's Online Learning Platform
Some course exclusions apply.* Certificates of Completion and AOTA CEUs are not included for Parent/Individual Subscribers.
Fund SPD Research 
Your subscription fee helps to raise SPD awareness and find solutions for SPD through research
*Excluded courses for Paid Subscribers: Annual STAR Sensory Symposium, Virtual Summit, monthly featured webinars, M-FUN Assessment courses, GOAL Assessment course, Foundations of Development course, Level 1 Mentorship online content, and School-based Intensive Course online content

Organization Subscription $945+ | Annually (CEUs Included)
Purchase Professional Subscriptions for multiple employees at a reduced rate

Subscribers have all the benefits of Professional Subscriptions

Annual costs:

$945 for up to 5 employees
$1790 for 6 to 10 employees
$3400 for 11 to 20 employees
$4770 for 21 to 30 employees
*Excluded courses for Paid Subscribers: Annual STAR Sensory Symposium, Virtual Summit, monthly featured webinars, M-FUN Assessment courses, GOAL Assessment course, Foundations of Development course, Level 1 Mentorship online content, and School-based Intensive Course online content