June 2018 Education Newsletter

Sensory Foundations of Social Skills Using
A SECRET to Support Social Capacities
by Carrie Dishlip, CCC-SLP
Good social skills are essential to functioning successfully in life. Foundational skills such as joint attention, engagement, imitation, emotional awareness, and self-regulation are needed for a child to develop strong social skills. Anyone who has difficulty developing these foundational skills will be limited in their social capacities. Sensory Processing Disorder can negatively impact a child's ability to acquire and demonstrate these fundamental skills.
Children with sensory modulation challenges (such as Sensory Over-Responsivity) are often overwhelmed in settings with too much sound, light, movement, or other sensations. These same settings (a playground, a birthday party, a play, or movement class) are the locations in which we expect children to easily engage and learn basic social awareness. If sensory challenges cause a child to become dysregulated, the child is unlikely to be able to attend to their peers. All of their energy goes into attempting to re-regulate themselves, which shuts down opportunities to engage or imitate play modeled by others. Emotional outbursts can lead to further isolation from social opportunities.
Children with sensory motor disorders (including Dyspraxia and Postural Disorder) can lack the endurance and motor capacities needed to easily join into movement or pretend play themes. Those with motor planning or praxis challenges may not be able to figure out the natural sequence of an activity. When they try to join with others they might end up disrupting the whole game. They may also lack the motor skills to "keep up" with peers, which limits opportunities for imitation and engagement with the group. These challenges can result in avoiding interactions or a tendency to try to take over the activity so that they can control, and thereby predict, expectations and challenges.
Children with sensory discrimination challenges often miss out on the cues needed to develop higher social capacities. Difficulties with reading one's own body cues (interoceptive discrimination) might impact a child's awareness of those subtle signals our bodies give us to indicate how we are feeling. This can decrease their ability to develop language labels for different emotions as well as their ability to read the signals peers are giving about how they are feeling. Emotion regulation is important to later perspective-taking and the development of empathy skills. Discrimination challenges in visual and auditory systems may result in missed cues from vocal affect, facial expressions, and body orientation that allow for imitation and engagement. Challenges with movement senses can result in decreased body awareness which may lead to difficulty maintaining personal space. These challenges all impact a child's access to developing foundational social abilities.
When trying to support social skill development it is important to consider these sensory processing challenges in order to support a child to be successful. When supporting families in facilitating social engagement and in our social skill group curriculums, STAR Institute uses the A SECRET Model of Social Problem Solving. The A SECRET Model was developed by Dr. Lucy Jane Miller, PhD, OTR/L and Doreit Bialer, OTD, OTR, as a tool to support problem solving for sensory processing and developmental needs. Within the context of social development, A SECRET stands for:
A - Attention
S - Sensory and Speech
E - Emotion Regulation
C - Culture
R - Relationship
E - Environment
T - Task or Topic
Attention refers to a child's ability to tune in and attend to peers. If a child tends to get excited and needs to explore a new environment, he/she won't be available to engage or participate. Using pictures to familiarize the child or even visiting a site ahead of a social event can facilitate attention. Giving appropriate postural supports during play could also facilitate a child to be able to look at, and therefore, "tune in" and attend to peers more effectively.
Sensory considers the sensory supports and strategies that are needed to improve engagement and regulation. Many children may benefit from starting with a movement activity like jumping or climbing to get their bodies ready to attend and engage. In louder environments children may need calming strategies to support their participation.
Speech refers to the tools used to facilitate language comprehension and use of social language. Children may benefit from a short social story that models language expectations in different settings. Visual tools can also be used to help children understand when to take their turn in social conversations.
Emotion Regulation describes a child's ability to control his or her emotional reactions in more challenging interactions. Validating when a child has big emotions can help them learn to understand and process those feelings more effectively. It is also important to learn the signs of a child's dysregulation so that he or she can be supported or offered a break in a "Time Inn" spot (a calm location that is used for regulation, not for punishment).
Culture considers the unspoken "rules" or expectations of different social situations. Practicing specific games played on the playground can facilitate understanding of how an activity works and make it easier to join into the play. Supporting a child by defining the rules aloud, e.g., "I see that whoever has the ball gets to go first" can also help prevent unintentional disruptions to the culture of a group.
Relationship relates to how to Improve engagement by using co-regulation or by selecting supportive peers for social interactions. Some children do best with a child that is a little older that can model different play and engagement skills. Other children do better when their peer is a little younger and the motor and language demands for participation are not as complex.
Environment can relate to how to set up a room to best facilitate a child's participation as well as how to prove appropriate sensory tools or strategies when the environment does not naturally support a child's sensory profile. If the goal is related to engagement, it may be best to find a space with few visual or auditory distractions. Put out a blanket or a visual boundary that defines where the play should happen. Select an activity that draws children together rather than spreads them out.
Task involves assigning a role that help with engagement and attention. This is very important during transitions. Topic refers to teaching a specific social skill or lesson to help increase awareness. For example, a child that may not have much awareness of personal space can be taught concrete rules about body space, as well as how it makes a friend feel if you are too close or too far away. This can help their engagement and participation in more natural social interactions.
Given the role sensory processing has in successful social capacity development, it should not only be a consideration in treatment and home supports but be a focus of a comprehensive program. Considering A SECRET when supporting children with Sensory Processing Disorder can improve their ability to develop fundamental social capacities. This in turn sets them up for better opportunities for social interactions and the higher level social capacities needed to succeed.
If you would like to learn more about how Carrie applies these concepts in practice, be sure to check out STAR Institute's new online video course, A Professional's Guide: Developing Groups for Social Success Using A SECRET.
All proceeds from the sale of this course go to the continued running of the BRIDGE Social Skills Program.
---
Lisa Porter, OTD, OTR/L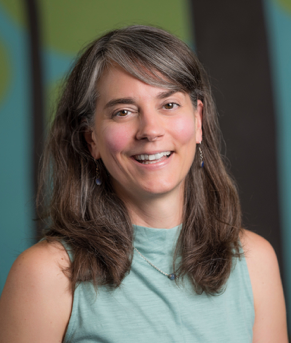 Along with running your private practice, you recently earned your OTD and you are currently in process of earning your PhD! Why did you feel it was important for you to go back to school to earn these degrees?
That's a great question, and one that I ask myself all the time! I blame Dr. Miller and Dr. Schoen. I'd been an OT for 15 years before I started the Mentorship program at STAR Institute, and I was perfectly fine with my MOT. But STAR Institute has made me think in a different way, made me ask more questions, and driven my desire for lifelong learning. I always remember when I met Dr. Miller at Level I Mentorship. One of the first things she said was, "you're not here to learn everything, you can't learn everything. I don't know everything!" She really created a safe environment for learning in that moment and I've always felt that at STAR Institute. I spent two summers working at STAR Institute and then started teaching Level II Mentorship, and I've always carved out some time with Lucy and Sarah. It was their mentoring that pushed me to want to learn more and to always ask questions. I think that's what drove the research interest. I've been honored to be an observer in the SPD Scientific Work Group meetings over the past few years and that experience solidified my desire to pursue a research degree... Then came the OTD! Yes, I passed my qualifying exams and then took a hiatus to get my OTD. I've been doing some adjunct teaching at Pacific University for the past few years and I love it. That made me realize how long it had been since I graduated from OT school (20 years)! My students were talking about frames of reference and models that I hadn't even heard of! I guess it felt like it was time for an OT refresher. But I have to say, one of the things I took away from the OTD was a newfound love for STAR Institute. I like to say that STAR Institute is OT at its finest. I've grown particularly fond of A SECRET, which is just such a beautiful OT tool. And the topic of my dissertation.
You are a major advocate of including and supporting families in the therapeutic process. Why do you consider this such a powerful tool in practice?
There's always research supporting my clinical practice, but I am also a huge proponent of the other components of evidence-based practice; clinical expertise and patient values and preferences. I say that because it is my experience – more than the loads of research behind parent involvement – that has made me see the importance of using a family-centered approach. I've seen the impact of direct intervention with kids, but then I see the struggle with translating that into the home and the community. I've seen the increased stress levels of families who have so much love and support to give but are so bogged down by life that they are overwhelmed by trying to implement a home program. I like to listen to families' values and preferences, which STAR allows us to do, and tailor intervention with them, not for them. Parents are all at such different levels of readiness for learning. We need to attune to parents as we do to our kids. If we don't support families through the process, as a part of the process, then we can't understand their needs and help them. As Dr. Miller says, "create a sensory lifestyle."
Would you say that STAR's focus on parent engagement and inclusion is the aspect of the STAR PROCESS for Treatment that resonates most with you, or are there other aspects you find equally or more impactful to practice?
I certainly have emphasized parent involvement, to the point of making it the focus of my dissertation, but there are so many aspects of the STAR INSTITUTE PROCESS that I love. What I think really drew me in at the beginning was a shift in the way I looked at sensory challenges; learning about and breaking down the subtypes of SPD and going into such depth with clinical observation and reasoning. But what really hooked me was the focus on relationship! This idea that relationship is the glue that supports development and social-emotional growth in our kids. I have felt it change my practice, and honestly change my life. That may sound corny, but it's true! 
As STAR Faculty Lead for Level II Mentorship, you have a considerable say in what the Mentorship looks like and what its focuses are. What makes STAR Institute's Level II Mentorship stand out from other intensive clinical trainings?
First of all, I don't know of other clinical trainings that offer this level of mentorship, and definitely not with this intensity (they might be out there, but I haven't found them). I think the intensity is one of the pieces that I value the most. I've tried to recreate the experience with therapists at my clinic, but we can't do it without the intensity. Having regular supervision meetings is great, but it doesn't touch what happens during Level II. At Level II we always have such amazing mentees, a small room full of incredible thinkers who are fully open to pushing themselves out of their comfort zone! I think the magic of Level II Mentorship is the self-reflection involved in the process. To steal my new favorite term from Virginia Spielmann, it's the "depth dive!" I've been teaching Level II for 6 years now, and I always walk away feeling like I've bumped up another level in my own practice. (I also always walk away feeling completely wiped out!)
Not only are you a faculty instructor and lead for STAR Institute's mentorships, but you yourself have taken them. Do you have a funny story of your own mentee experience you can share?
Funny you should ask. I do have a story about my experience! Only after I spent my first summer working at STAR Institute did I learn that Lucy was not keen on me coming to Level II! She was concerned about how quiet I was in Level I Mentorship and didn't think I could do it. Well, in fact, she wasn't too far off base. I was so nervous and so painfully un-engaged during Level II (my mentor, Jamie Schreckler often tries to disagree with me on this) that it is both difficult and funny to look back on. Lucy likes to pull out a video clip of me on my first day. I was in the ball pit with Jamie and the child I was working with that week and I could not have been farther away from him – sucked to the far reaches of the ball pit! I have such funny memories of that week, really forcing myself to be AFFECTIVE and BIG. I'm naturally now pretty BIG, but that's how STAR Institute has changed me!
---

NEW Video Course!
Enhance Your Social Success Groups
Elements like cooperation, self-control, confidence, independence, and communication are key to social and life success. The BRIDGE Program was created to help address these areas of challenge. This program was created as a success model in learning to develop skills in increasingly larger group formats. Vincentia Ferrari, MOT, OTR/L and Carrie Dishlip, MS, SLP-CCC, guide you through the creation of similar, evidence-based groups in your own setting using the framework of A SECRET by Dr. Lucy Jane Miller and Doreit Bialer.

---
Online Courses
A Professionals Guide: Developing Groups for Social Success Using A SECRET
Elements like cooperation, self-control, confidence, independence, and communication are key to social and life success. The BRIDGE Program was created to help address these areas of challenge. This program was created as a success model in learning to develop skills in increasingly larger group formats.  Vincentia Ferrari, MOT, OTR/L and Carrie Dishlip, MS, SLP-CCC, guide you through the creation of similar, evidence-based groups in your own setting using the framework of A SECRET by Dr. Lucy Jane Miller and Doreit Bialer. More details
1003 Building a Social Foundation – Understanding the Development of Social Skills
Carrie Dishlip, MS, CCC-SLP presents a parent-friendly discussion on building social foundations. Learn about the typical social skill development, red flags for social concerns and what can be done to help your child build their social awareness and abilities. More details
3221 Sensory and Relationship-based Intervention: Understanding the STAR Treatment Model
This presentation will provide an overview of the STAR treatment approach, a short-term, intensive therapeutic intervention, with a significant parent education component, for individuals with sensory processing challenges.  An emphasis will be placed on the multidisciplinary features of the approach with presentations from occupational therapy, speech and language pathology and mental health professionals. Videotaped segments of treatment will be highlighted, demonstrating the amalgamation of approaches used including sensory integration, DIR Floortime and Integrated Listening Systems. An additional focus will be placed on reviewing the current state of research on treatment effectiveness. More details
---
NEW In-Person Programs 
SOS Approach to Feeding Conference
June 21-24, 2018 • Portland, OR
Expand your practice and make a difference in the lives of children with all levels of feeding challenges. SOS (Sequential Oral Sensory) Approach to Feeding is a transdisciplinary program for assessing and treating children with feeding difficulties and weight/growth problems of all ages, with a special focus on children from 12 months to 5 years old. It integrates posture, sensory, motor, behavioral/learning, medical and nutritional factors to comprehensively evaluate and manage children with feeding/growth problems. More details
SOS Approach to Feeding Conference
July 19-22, 2018 • Allentown, PA
Expand your practice and make a difference in the lives of children with all levels of feeding challenges. SOS (Sequential Oral Sensory) Approach to Feeding is a transdisciplinary program for assessing and treating children with feeding difficulties and weight/growth problems of all ages, with a special focus on children from 12 months to 5 years old. It integrates posture, sensory, motor, behavioral/learning, medical and nutritional factors to comprehensively evaluate and manage children with feeding/growth problems. More details
Research Mentorship Program
August 1-3, 2018 • Denver, CO
The 3-day Research Mentorship program is intended to help participants learn to initiate studies that can be completed over the course of the next year. Receive in-depth training from Dr. Lucy Jane Miller, Dr. Sarah Schoen, and Dr. Stephen Camarata from Vanderbilt University. Obtain support and further mentoring from us during your quarterly phone meetings. More details
Onsite Level 1 Mentorship Program
August 6-10, 2018 • Denver, CO
Working in a small-group setting (10-14), participants of STAR Institute's Level 1 Intensive Mentorships learn to apply clinical reasoning through live treatment observation and analysis with experienced therapists. Observe children in direct therapy with experienced STAR therapists. Experience active mentoring before, during, and after observed treatment sessions. More details
Off-site Level 1 Mentorship Program
August 23-26, 2018 • Johnston, IA
This 4-day version of the onsite Level 1 Mentorship program offers the same core content as the onsite program at STAR Institute. An opportunity to learn to apply clinical reasoning through lectures, video treatment observation and analysis with two experienced STAR faculty. More details