How To Start
If you are interested in pursuing handwriting evaluation and/or intervention, please fill out our online intake form for a no-cost consultation session.
You can also contact us at 303-865-7661 for more information.
Assessment
A comprehensive Handwriting Assessment can include the following elements:
Standardized testing
Clinical observation and video review of testing to determine additional strengths and limitations (not assessed by the standardized testing), to assess functional abilities in real settings,
Parent and/or Teacher Report
The handwriting assessment is conducted by one therapist with the goal of determining appropriate treatment interventions. Testing does not result in a diagnosis, but provides valuable information about root causes of the handwriting challenges (e.g. postural instability, poor motor control, visual/motor integration difficulties, etc.) that then guide the intervention.
We use a variety of standardized scales and parent-report measures depending on the age and needs of the client. Among the standardized tests used are: Beery-Buktenica Developmental Test of Visual-Motor Integration, Sixth Edition, The (BEERY™ VMI); Test of Handwriting Skills, Revised (THS-R), and the The Print Tool® Evaluation & Remediation Package.
The assessment administration process takes approximately one hour (though it varies depending on the child's age, writing ability, tolerance for structured tasks, etc.). The assessment will be scored and interpreted. Parents/caregivers have the option to add a feedback to obtain the results, as well as a written report, if desired.
Treatment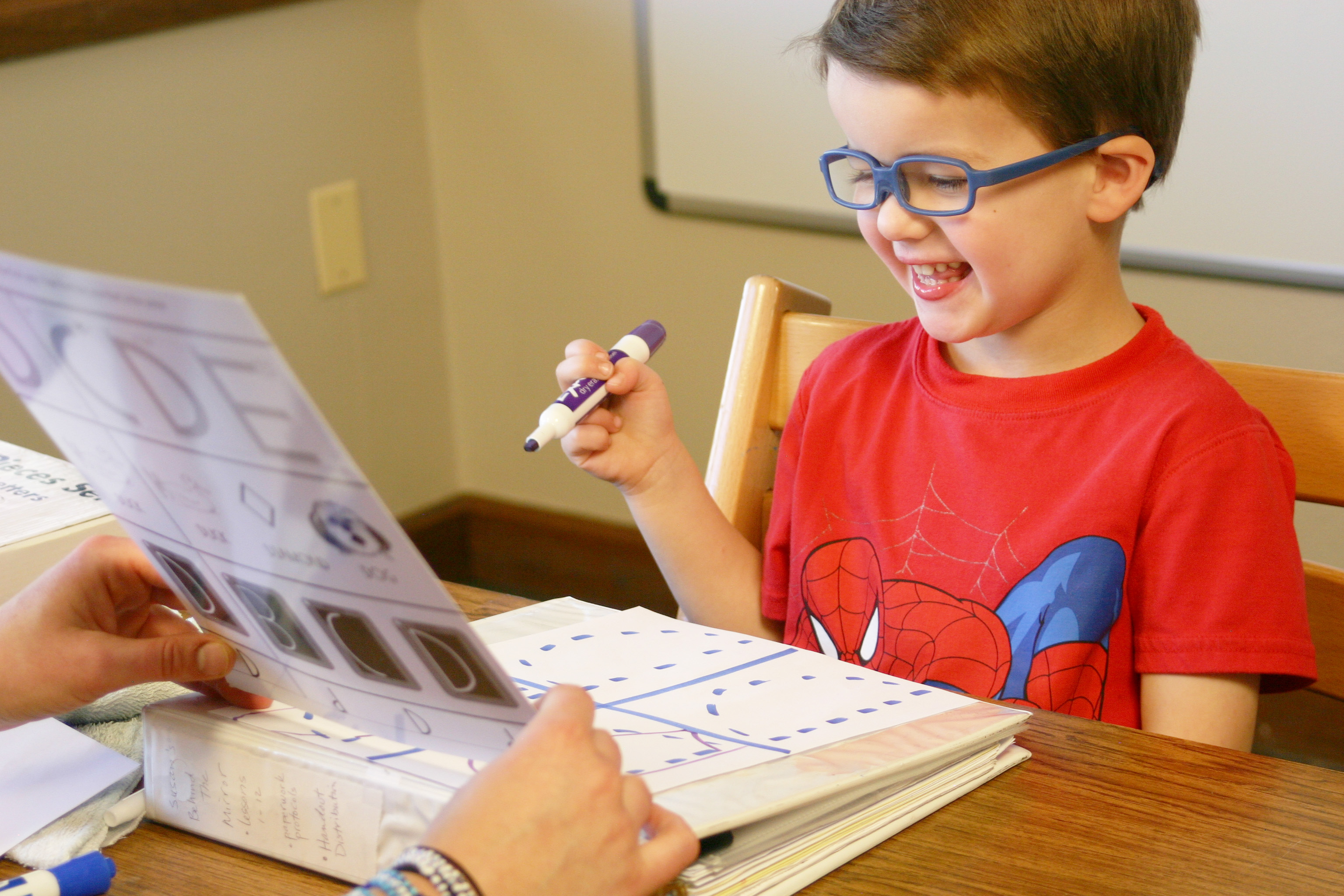 Following handwriting evaluation, parents can opt for handwriting intervention. Handwriting programs can be between 10 and 30 sessions. Treatment sessions are one-on-one (therapist and child) and last 50 minutes each. Handwriting intervention is based upon the same principles as all therapies at STAR Institute – sensory integration and utilizing a developmental approach. Just as we do in our occupational, speech and feeding therapies, handwriting capitalizes on the relationship between the therapist and child as a motivating factor in therapy. We try to make it fun and "find the game" when teaching handwriting. 
Handwriting intervention will be tailored to help children learn to recognize and write his/her letters, write more neatly, improve spacing and sizing of letters, and build endurance for writing. For very young children, we can start with pre-writing skills – body-based learning that will later support writing abilities.
Handwriting intervention starts at the level of the child's skills/abilities, and the most important goal is that each child feels successful!

What Are Parents Saying About Handwriting Skills Sessions?
"When I first heard that STAR Institute offered handwriting services, I was quite intrigued. I have tried and tried to help my 4 1/2-year-old son with his writing but it was hopeless.  Handwriting?? I couldn't even get him to pick up a crayon or pencil. He has never liked to color or scribble.  He would do nothing that involved holding a writing device.  Aside from my son's SPD, he has motor planning challenges and low muscle tone, so writing is a combination of too many things that are just too hard for him.  I will admit that I was not overly optimistic about the results we would see from his handwriting sessions.  That being said, I know Rachel and I know that any time my son would spend with her wouldn't be wasted time…even if he doesn't ever pick up a pencil.  It's worth a shot, right?
I could not be more excited about the results I saw from my son's 15 sessions with Rachel!!  Not only is he writing his letters. ALL OF HIS LETTERS! He is also drawing!! His preschool teachers used to send me his drawings before and they would have a dot and maybe a pencil-swipe and that was it.  Last week he drew me a picture of the Incredible Hulk! Sure, his handwriting isn't very neat yet, but he is writing and drawing! Not only that, but he is excited about it! He wants to show me the letters he learns.  He is proud of himself and he knows we are proud of him, too.  On top of actually writing the letters, he has learned the sounds the letters make, and is identifying words that start with each letter.  All of the sudden our favorite car game is to just pick a letter, identify the sound and shout out words that start with it.  He has learned SO MUCH MORE than handwriting!
I could write about how his pre-testing scores were dismal; they were. I could also tell you about how, after his program at STAR Institute, his post-testing scores were on target; THEY WERE! Ultimately, the most important thing to me is that what started out as hopeless is now a great victory.  He took something that was so hard for him that he didn't even want to try and now it's one of his favorite things! So now I take the crayons when we go to a restaurant, because for the first time in his life, he will actually use them!"
- Jo Benjamin, December 13, 2016