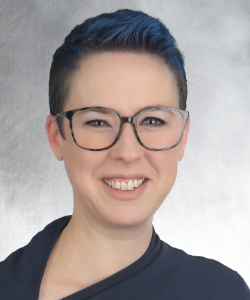 Virginia Spielmann, PhD, OTR/L (she/her)
ICDL Advisory Board, Colorado State University Affiliate Faculty, Salem State University Visiting Assistant Professor
Virginia is a well-travelled speaker, coach and educator on topics including sensory integration, DIR/Floortime, child development and infant mental health. She has conducted trainings in Kenya, Australia, the Philippines, Vietnam, Hong Kong, and the USA and leads workshops at international conferences.
She is a DIR/Floortime Training Leader and Expert and clinical consultant for the Interdisciplinary Council for Development and Learning (ICDL). Her extensive pediatric experience includes support for autistic children and their families, those with differences in sensory integration and processing, Sensory Processing Disorder, infant mental health differences, adoption, developmental trauma, and acquired brain injury.
Virginia is affiliate faculty at Colorado State University, Occupational Therapy Department and Visiting Assistant Professor at Salem State University.
Virginia has considerable post-graduate training, she is certified on the SIPT. She obtained her Ph.D. in Infant and Early Childhood Development with an emphasis on mental health, from Fielding Graduate University, in Santa Barbara (2021). Her Masters in Occupational Therapy from Mount Mary University, Milwaukee (2018) and her BSc in Occupational Therapy from Oxford Brookes University, England (2002).
She is a published author and contributed to the STAR Frame of Reference as part of the 4th Edition of Frames of Reference for Pediatric Occupational Therapy, alongside Dr. Miller and Dr. Schoen. She is co-author and founder of the Critical Core Therapeutic Role Playing Game - an alternative to social skills groups for autistic children. She is also co-designer of the Palaana Sensory Lounger with Slack Lifestyle. 
Colleen Cameron Whiting, Mim Ochsenbein, Sarah A. Schoen & Virginia Spielmann (2021) A Multi-Tiered and Multi-Dimensional Approach to Intervention in Schools: Recommendations for Children with Sensory Integration and Processing Challenges, Journal of Occupational Therapy, Schools, & Early Intervention
Spielmann, V., Schoen, S., Parkins, M., (In Press). Sensory Integration and DIR/Floortime – The STAR Frame of Reference. In E.I. Blanche, C. Giuffrida, M. Hallway, B. Edwards and L. Test (Eds.), Blending sensory integration intervention with other approaches in pediatric practice: A data-based approach to practice. New York: Taylor & Francis/Routledge
Clairy, K., Ochsenbein, M., Lynch, A., & Spielmann, V. (2021). Intersection of Trauma in Neurodivergent Populations. In A. K. Lynch, R. Ashcraft, & L. Tekell (Eds.), Trauma Informed Care in Occupational Therapy. Bethesda, Maryland: AOTA Press.
Davis, A. (co), Johns, A. (co), & Spielmann V., (2021). Critical Core – A Therapeutic Role-Playing Game. Seattle: Game to Grow.
Spielmann, V & Dishlip, C (2020). 20Q: Understanding Sensory Integration and
Processing. SpeechPathology.com, Article 20387.
Spielmann, V. & Miller, L.J. (2020). Sensory integration and processing: Impact on anxiety in autism. In S.M. Edelson, and J.B. Johnson (Eds.), Understanding and treating anxiety in autism.  London: Jessica Kingsley Press. 
Miller, L. J., Chu, R. C., Parkins, M., Spielmann, V. A., & Schoen, S. A. (2020). The STAR process: An overview. In A. C. Bundy & S. J. Lane (Eds.), Sensory Integration: Theory and Practice (3 ed., pp. 578-585). Philadelphia: F. A. Davis Company.
Spielmann, V. (2020). The Interplay of Regulation, Relationships and Sensory Processing: Impact on Function and Participation. SensorNet, Sensory Integration Education News, UK, 55: January 2020
Spielmann, V., & Porter, L. M. (2019). Model of Imposed Adaptation in Childhood Learning Environments—Application to Autism. A precarious game of developmental Jenga. Autism and Developmental Disorders, 17(2), 18–33.
Schoen, S. A., Einck, C., Spielmann, V., Valdez, A., & Miller, L. J. (2019). A Trampoline Group: Feasibility, Implementation, and Outcomes. Autism and Developmental Disorders, 17(2), 58–86.
Schoen, S. A., Spielmann, V., & Miller, L. J. (2019). Introduction to Sensory Integration Methods in Autism. In E. M. Sokhadze & M. F. Casanova (Eds.), Autism Spectrum Disorder: Neurofeedback and Sensory Integration Approaches to Research and Treatment (pp. 253–283). Murfreesboro, TN: Foundation for Neurofeedback & Neuromodulation Research (FNNR) and BMED Press.
Miller, L. J., Schoen, S. A., & Spielmann, V. (2019). A Frame of Reference for Sensory Processing Difficulties: Sensory Therapies and Research (STAR). In P. Kramer, J. Hinojosa, & T.-H. Howe (Eds.), Frames of Reference for Pediatric Occupational Therapy (4th ed., pp. 159–204). Philadelphia: Wolters Kluwer.
Hollenbeck, J., Spielmann, V., & Miller, L. J. (2019). Motor Skills to Enhance Participation. In G. J. Frolek Clark, J. E. Rioux, & B. E. Chandler (Eds.), Best Practices for Occupational Therapy in Schools (2nd Ed, pp. 473–480). AOTA Press
Spielmann, V. (2018). How does implementing reflective practice in a multi-disciplinary team impact treatment provision from a dynamic systems perspective? In Zero to Three.