2023 Trunk or Treat Sensory-Friendly Halloween Event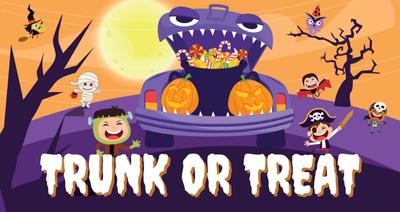 October 21, 2023
10:00am - 1:00pm
Join us at STAR Institute for a Spectacular and FREE Halloween Spectacle! Our dedicated staff and volunteers are conjuring up a sensory-friendly, all-inclusive Halloween experience like no other. Get ready to embark on a candy (and treat)-filled adventure as our themed trunks weave a web of Halloween enchantment, ensuring a safe and delightful time for all kids and families.
 
SIGN UP NOW AND GET YOUR FREE TICKETS
But wait, there's more! We've brewed up some spine-tingling surprises just for you. Non-food treats will be available at every trunk for families with food allergies and specific dietary needs. The bewitching fun doesn't end there either; we have more ghostly activities for everyone to keep the Halloween spirit alive. And after you've filled your pumpkin baskets with treasures and got the monster wiggles out, don't forget to cast your vote for your favorite Trunk or Treat team!
Come, let our enchantment surround you.
We can't wait to see you there, as we celebrate the spook-tacular spirit of Halloween together!
We invite you to wear costumes, if you are able. If costumes are too hard, we promise no awkward questions!
This is a family event, adults will only be admitted if they are accompanied by a child - a maximum of two adults per child are allowed.
This event is safe and inclusive. Feel free to wear your ear defenders, colored sunglasses or whatever you need. ALL are welcome.