Bring your ghosts and goblins to our spooktacular event!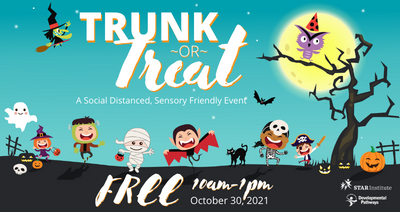 Join us at STAR Institute for a FREE BOO-TASTIC event as our staff and volunteers provide a sensory friendly, inclusive Halloween experience. Collect candies and goodies via creative inventions from each trunk that limit contact and maintain social distancing while embracing the fun of Halloween. Snacks and non-food treats will be available at every trunk for families with food allergies. After filling up those mummy baskets, vote on your favorite Trunk or Treat team and enjoy more magical activities after your candy walk. There's something for everyone so come on down, be there or be scare-y.
A sensory safe, inclusive, and socially distanced Trunk or Treat event.
Saturday, October 30th, 10 am -1 pm MDT
Free admissions | All ages welcome

GET YOUR TICKETS NOW AT bit.ly/startrunkortreat2021 or email us at groups@sensoryhealth.org 

MASKS WILL BE REQUIRED: For the safety of all families, staff, and volunteers, we will be requiring everyone 3 years old and older to wear a mask or face covering, if tolerable.
 
We invite you to wear costumes, if you are able. If costumes are too hard, we promise no awkward questions!
This is a family event, adults will only be admitted if they are accompanied by a child - a maximum of two adults per child are allowed.
This event is safe and inclusive. Feel free to wear your ear defenders, colored sunglasses or whatever you need. ALL are welcome.
All trick or treat candy will be pre-wrapped in individual packets.
Please email groups@sensoryhealth.org if you require further information 
---
We need volunteers and we're looking at YOU!
FIND OUT HOW YOU CAN HELP... bit.ly/starvolunteers2021