Sensory Balanced Daily Schedules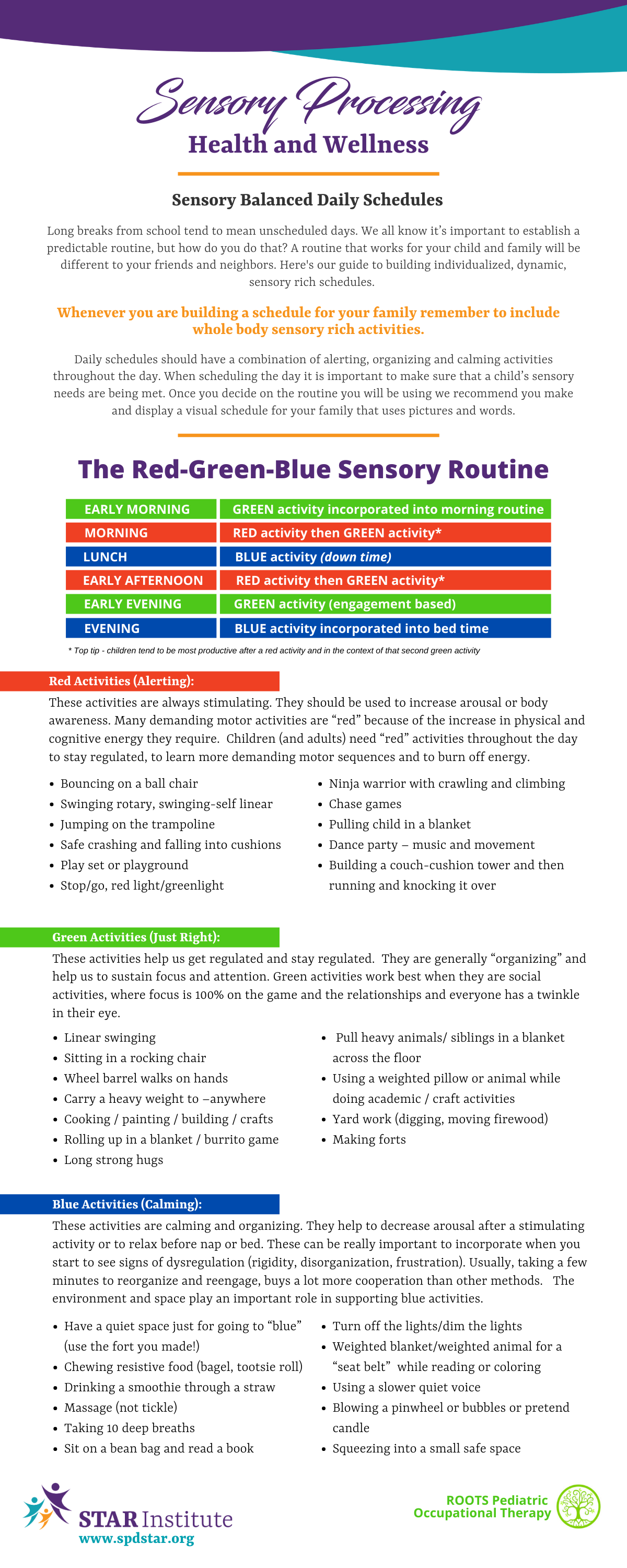 We estimate that 99.9% of children benefit from a clear schedule during their day-to-day, especially while out of school. Valuing the individual differences of each child makes it impossible to provide a one size fits all option. What we do know however is, you 𝙝𝙖𝙫𝙚 𝙩𝙤 𝙧𝙚𝙢𝙚𝙢𝙗𝙚𝙧 𝙩𝙤 𝙞𝙣𝙘𝙡𝙪𝙙𝙚 𝙨𝙚𝙣𝙨𝙤𝙧𝙮 𝙧𝙞𝙘𝙝 𝙖𝙘𝙩𝙞𝙫𝙞𝙩𝙞𝙚𝙨.
Here's our guide on incorporating sensory rich activities into your family lifestyle and your daily schedule. We hope you find it helpful.

Thank you to our faculty member Renee Allen from Roots Pediatric OT and our own Maura Mooneyham for all your work on this today.
 
---
Grab the PDF here
---
See below for text only version: 
Sensory Balanced Daily Schedule
When you have long breaks from school and unscheduled days it's important to establish a predictable routine that works for your child and your family.
Whenever you are building a schedule for your family remember to include in whole body sensory rich activities.
Daily schedules should have a combination of alerting/organizing/calming activities throughout the day. When scheduling the day it is important to make sure that a child's sensory needs are being met.
| | |
| --- | --- |
| Early morning: | GREEN activity incorporated into morning routine |
| Morning: | RED activity then GREEN activity |
| Lunch | BLUE activity (down time) |
| Early Afternoon | RED activity then GREEN activity |
| Early Evening | GREEN activity (engagement based) |
| Evening | BLUE activity incorporated into bed time routine |
The Red/Green/ Blue Sensory Routine
Red Activities (Alerting): These activities are always stimulating.  They should be used to increase arousal or body awareness. Many demanding motor activities are "red" because of the increase in physical and cognitive energy they require.  Children (and adults) need "red" activities throughout the day to stay regulated, to learn more demanding motor sequences and to burn off energy.
Bouncing on a ball chair
Swinging rotary, swinging-self linear
Jumping on the trampoline
Safe crashing and falling into cushions
Play set or playground
Stop/go, red light/greenlight
Ninja warrior with crawling and climbing
Chase games
Pulling child in a blanket
Dance party – music and movement
Building a couch-cushion tower and then running and knocking it over
Green Activities (Just Right): These activities help us get regulated and stay regulated.  They are generally "organizing" and help us to sustain focus and attention. Green activities work best when they are social activities, where focus is 100% on the game and the relationships and everyone has a twinkle in their eye.
Linear swinging
Sitting in a rocking chair
Wheel barrel walks on hands
Carry a heavy weight to –anywhere
Cooking / painting / building / crafts
Rolling up in a blanket / burrito game
Long strong hugs
Pull heavy animals/ siblings in a blanket across the floor
Using a weighted pillow or animal while doing academic / craft activities
Yard work (digging, moving firewood)
Making forts
Blue Activities (Calming): These activities are calming and organizing. They help to decrease arousal after a stimulating activity or to relax before nap or bed. These can be really important to incorporate when you start to see signs of dysregulation (rigidity, disorganization, frustration). Usually, taking a few minutes to reorganize and reengage, buys a lot more cooperation than other methods.   The environment and space play an important role in supporting blue activities.
Have a quiet space just for going to "blue" (use the fort you made!)
Chewing resistive food (bagel, tootsie roll)
Drinking a smoothie through a straw
Massage (not tickle)
Taking 10 deep breaths
Sit on a bean bag and read a book
Turn off the lights/dim the lights
Weighted blanket/weighted animal for a "seat belt"  while reading or coloring
Using a slower quiet voice
Blowing a pinwheel or bubbles or pretend candle
Squeezing into a small safe space
---
STAR Institute is a 501(c)(3) and the Covid-19 situation has hit us hard. If you are in a position to help please consider a $20 donation today: Donate Now