STAR Sensory Symposium - Individual Registration
Due to developments related to COVID-19 and taking into account the safety of attendees, this year's STAR Sensory Symposium will be a live-streamed event. Please see our agenda to see programming changes.
This year, STAR Institute is offering more options than ever to participate in our annual Sensory Symposium. Take advantage of our new package pricing to maximize your networking and participation. 
Join us live and online to join the discussion. The link to join the broadcast is provided to participants prior to the conference. Receive access to the LIVE 2-Day Symposium and Pre-Symposium Parent Workshop, along with the lecture recordings. Daily Q & A sessions with our Expert Panel and interactive discussion are included.
Unable to attend the live event, purchase your registration ticket and receive all lecture recordings and bonus downloads for 30-days access after the event.
For additional information and questions regarding our upcoming symposium and payment options, please email us at education@spdstar.org.
---
Parent/Student/Individual Livestream Attendance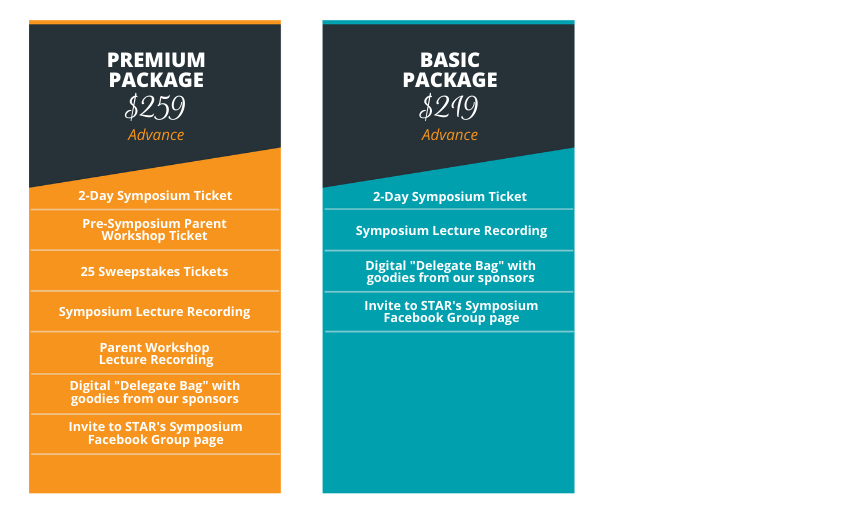 Get the FULL experience of the Sensory Symposium with our Premium Package!
Pre-Symposium Parent Workshop is now included in a Premium, all-inclusive package
Network with other families, providers, and experts in the field of Sensory Processing
Engage with our incredible sponsors to learn about specific products and services for families and providers
Participate in our Sweepstakes to win amazing prizes from our sponsors and donors