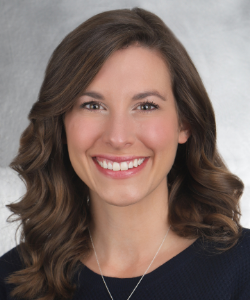 Katie Wilson, OTD, OTR/L (she/her)
Katie received a Bachelor's of Science in Psychology and Equine Science from Colorado State University.  She went on to earn her Doctorate of Occupational Therapy from Pacific University in Portland, Oregon.  While in school, she completed one of her fieldwork experiences at Sensory Kids, an outpatient pediatric clinic that utilizes the STAR method, and received training from Lisa Porter, a STAR Institute Faculty Member and owner/director of Sensory Kids. Katie quickly realized her passion for working with children with Sensory Processing Disorder and the relationship-focused, play-based model.
Prior to joining the STAR Institute, Katie had experience working in inpatient acute care, community mental health, school-based settings, hippotherapy, and outpatient pediatrics.  Additionally, she recently traveled abroad to China to work with the Go Baby Go program to provide mobility for children with mobility impairments. While in China, Katie had the opportunity to work with a diverse population, learn more about different cultures and values, and train over 150 professionals on toy adaptation and the importance of mobility for children with physical disabilities.  Katie has received training in Sensory Processing Disorder treatment including Level 1 Mentorship with the STAR Institute.