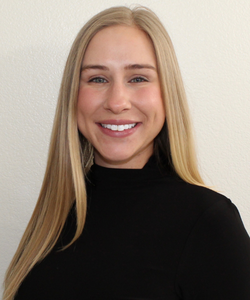 Kaitlyn Darbe, OTR/L (she/her)
Kaitlyn graduated from Colorado State University with a Bachelor of Science in Human Development and Family Studies. She then graduated top of her class from Midwestern University with her Masters in Occupational Therapy. During her time as a student, Kaitlyn completed a clinical rotation at Gundersen Health Systems working in the pediatric and neonatal intensive care unit. There she collaborated with a multidisciplinary team to provide education, treatment, plan of care, and discharge recommendations to patients. She then completed a clinical rotation at the STAR Institute furthering her understanding of sensory integration, regulation, and the STAR treatment approach. Kaitlyn soon realized her passion for working with children with Disordered Sensory Processing and the play-based, relationship-focused model.

Prior to joining the STAR Institute, Kaitlyn has experience working with clients in inpatient acute care, inpatient mental health, hippotherapy, and outpatient pediatric settings. Kaitlyn prioritizes building relationships with families through trust, respectful interaction, and communication. Her interests include early intervention and providing inclusive, trauma-informed care in a neurodiverse affirming setting. She has taken courses to expand her knowledge on trauma-informed care and sensory integration. She is a member of both national and state organizations to promote lifelong learning. Kaitlyn is committed to fostering and providing inclusive and equitable therapy across the lifespan.

Kaitlyn is one of STAR's first Occupational Therapy Fellows-in-Training.