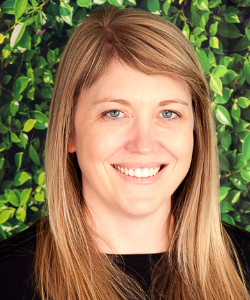 Jayna Niblock, PhD, OTD, OTR/L, BCP
Jayna graduated from Simpson College with a bachelor's degree in biology and Spanish. She then completed a doctorate in occupational therapy at Creighton University. Jayna was the first Occupational Therapy Pediatric Resident (now called Fellowship) with Creighton University following her occupational therapy degree. During this time, she received advanced training in Sensory Integration and Processing, feeding, the Neonatal Intensive Care Unit, and education. Jayna has worked in a variety of pediatric settings prior to coming to STAR Institute and is Board Certified in Pediatrics through the American Occupational Therapy Association (AOTA). She currently serves as the Technology Coordinator for the Sensory Integration and Processing Special Interest Section for the AOTA.
Jayna enjoys engaging in play-based therapy focused on relationship building between a child and their family. She brings a strengths-based approach to support the child and family achieve their goals in life. Jayna has advanced training in Sensory Integration and Processing differences including Mentorship Certification through the STAR Institute. She is also trained in Integrated Listening Systems (iLS) and the Sequential Oral Sensory (SOS) approach to feeding. Jayna has a Doctor of Philosophy in Educational Leadership and seeks to support practice through research and evidence.
Jayna is an ally to the neurodiverse community and strives to learn more and integrate practices which support neurodiverse persons to build a strong sense of self and live their most sensory-rich lives.