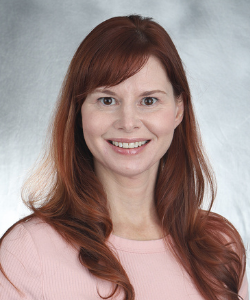 Gina has a Master's degree in Marriage and Family Therapy from the University of New Hampshire (2009).  She currently provides therapy to individuals (8 years through adulthood), couples, and families in-person or through telehealth (Colorado residents only). Clients would describe Gina's style as reflective, collaborative, and experiential. She has a calm yet dynamic presence and works from a compassionate, curious, and empowering stance. 
Gina's practice is rooted in attachment and systems theories, making her truly a relationally focused therapist. As such, she believes that our greatest healing occurs in the context of relationships. She has always been oriented toward a biopsychosocial approach to her theory of change, thereby honoring the importance of the mind-body connection. She believes that within a safe space and through our attuned relationship with Self and others, we all have the power to tune into our instinct towards healing.  
With her early career in occupational therapy, Gina has incredible understanding of the importance of self-determination for clients: competence, autonomy, and relatedness. This—coupled with her deep understanding of sensory integration and processing and the importance of occupational roles—truly sets her apart. Her practice honors and respects each person's unique history and individual differences, and sets clients up for experiencing a deeper sense of self and relational health, on the clients' own terms. 
Gina was drawn to couples and family therapy for its non-pathologizing approach to viewing clients' problems. While biological factors certainly play a role, so do clients' experiences within their families, partnerships, and larger society. She is passionate about empowering parents to reflect on and integrate their own experiences in service of their children's health and wellness, as well as their own. "Society does not prioritize proactively supporting its members' health and therefore, parents and families are not set up for success. This is particularly true for oppressed groups, the poorly included and the disenfranchised."  She believes that parents innately know how high the stakes are and are doing their best, and, like all of us, only benefit from being and feeling less alone in their pain and struggle.  
Gina is especially equipped to support neurodivergent individuals, couples and families, as well as those navigating issues around disability and chronic illness. She is capable of easily moving between deep therapeutic work, parent coaching and individual skills training - making her a versatile therapist. She has experience supporting clients with life transitions, anxiety, depression, non-suicidal self-harm, suicidal ideation, recovery from adverse childhood experiences and trauma, developing deeper emotional awareness, identifying and leaving behind maladaptive coping patterns, and improving self-esteem.  
Above all, Gina is a sensory informed, neurodiversity affirming and LGBTQIA+ allied, culturally sensitive and attachment-focused therapist with a special interest in interpersonal neurobiology who strongly believes in the healing power of making sense of our experiences in the context of relationships where we feel seen, heard, and understood.