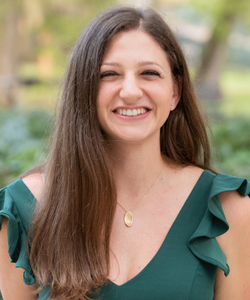 Ariel Harris, OTD (She/her)
Ariel graduated from the University of Florida with her Bachelor of Science in Health Education in 2018 and received her Doctorate in Occupational Therapy in 2022. During her time at the University of Florida, Ariel was an active member of the Student Occupational Therapy Association and the Coalition of Occupational Therapy Advocates for Diversity, where she was able to enhance her understanding of various aspects of the field of occupational therapy including the importance of learning about diversity and striving for cultural humility. Ariel was selected to be an INSPIRE scholar through the University of Florida OT program, where she was provided additional training in early intervention services and early childhood treatment with a multidisciplinary team. Ariel has always had a passion for sensory integration and working with a pediatric population. Her passion began during one of her first experiences working with therapists who focus on sensory integration. This fostered her desire to understand the sensory systems and how to integrate them into treatment methods to assure individuals have maximum opportunity to reach their potential. Prior to joining the STAR team, Ariel had experience working with patients in inpatient acute care, outpatient pediatrics, hand therapy, and inpatient pediatric settings. She completed her final capstone project at the STAR Institute, which allowed her to learn STAR's treatment protocol and to partake in ongoing research projects. She is beyond excited to take the knowledge she gained from her capstone experience and apply it as an OT fellow. Ariel enjoys hiking, reading, and baking for fun.

Ariel is one of STAR's first Occupational Therapy Fellows-in-Training.