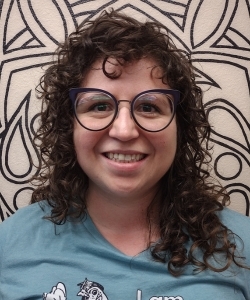 Andrea "Dezi" Valdez, OTR
Andrea "Dezi" Valdez received a Bachelor of Science in Psychology from Metropolitan State University of Denver in 2015 and went on to earn her Doctorate in Occupational Therapy from Creighton University in 2023. While in OT school, Dezi applied for and was accepted into the American Occupational Therapy Association's (AOTA) Institute for Future Scientists in Occupational Therapy, which was an event where students could meet and network with the leaders in occupational therapy research. She completed fieldwork rotations at Sensory Kids in Portland, OR; Lincoln Regional Center in Lincoln, NE; and several preschools in Philadelphia, PA, focusing on trauma-informed care with mentorship from Dr. Amy Lynch. Prior to starting her OT journey, Dezi worked at STAR Institute for six years as the senior research assistant with mentorship from Dr. Sarah Schoen and has returned to fulfill her dream of working for STAR as an OTR.
Dezi's clinical focus is on neurodiversity-affirming interventions with a trauma-informed and sensory-based lens. She also has experience working with groups of children and adults to provide a supportive and inclusive space to learn and develop self-advocacy and social skills.