BUY YOUR TICKET NOW | 4TH ANNUAL VIRTUAL SUMMIT IS AROUND THE CORNER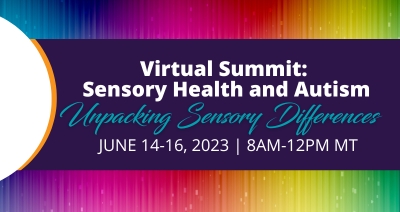 June 14-16, 2023
Daily | 8:00 AM - 12:00 PM MT
$129 Advance Registration Through June 14th
Gain valuable insights and resources to help navigate the complexities of Autism and Sensory Integration.
Join our one-of-a-kind online event created to examine sensory health and the pivotal role it has in the autistic experience. Explore what differences in sensory integration/processing look like with our sensory experts and advocate voices.
This collaborative summit focuses on Autistic insight, lived experiences, and evidence-based practice and research that will inspire, educate and empower individuals and professionals alike.