Virtual Summit: Sensory Health in Autism is BACK for a 3rd year! | REGISTER NOW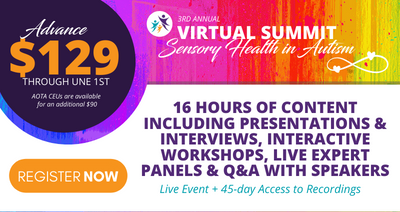 June 8-10, 2022
Daily | 8:00 AM - 12:00 PM MDT
Join us and our inspirational and enlightening line-up of voices for our 3rd annual Virtual Summit event, as we continue to examine sensory health and the pivotal role it has in the autistic experience. Explore what differences in sensory integration/processing look like and how this role in development and function is overly simplified. Throughout our collaborative event, professionals and advocates will "pass around the mic," articulating their unique perspectives, as the dimensions of sensory health are discussed within the context of development, neurodiversity, best practices in therapy, best practices, and quality of life for individuals.
Participants will have access to 16+ hours of pre-recorded presentations and interviews, LIVE Q&A with speakers, interactive workshop and expert panel. Our integrated approach to person-centric and science-orientated presentations focusing on Autistic insight, lived-experiences, and evidence-based practice & research will inspire, educate and empower individuals and professionals. With real-world application discussions and advocate voices, attendees will be given tools and strategies for home, school, and community function and advocacy.
 

Purchase your registration ticket and receive all content and bonus downloads for 45-day access after the event.