Be sure to check out our Fall Food and Cooking Clubs for Kids!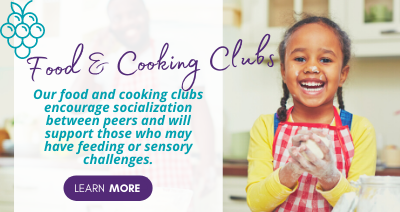 Did you know that eating requires us to use all eight of our senses?
For children with feeding or sensory challenges, this can make mealtimes feel especially tricky. Cooking and other fun food activities can be a wonderful opportunity to learn about new foods in an engaging environment while spending time with parents and/or peers. Often when children have the opportunity to learn and cook their own foods, it can make it feel a little less scary to interact with and try them too! Our food and cooking clubs encourage socialization between peers and will support those who may have feeding or sensory challenges. Children of all ability levels are encouraged to join us as we have fun together in the kitchen!
All groups will be taught by STAR Institute therapists who are trained in the SOS Approach to Feeding and who love FOOD! Picky/selective eaters are encouraged and welcome to join! Not sure if your child qualifies as a picky eater? Check out this Red Flags Checklist. We will help meet the sensory needs of all children in class and be aware of any food sensitivities or allergies.

---
Little Chefs | Online | For children ages 3-5
Duration: 30 minutes, 1x weekly for 4 weeks
Dates: Wednesdays
            Session 1: September 9-September 29
            Session 2: October 13-November 3
Time: 10:15am - 10:45am
Cost: $160 for 4 sessions
---
Food Scouts | In-person | For children ages 6-10
Duration: 90 minutes, 2x weekly for 5 weeks
Dates: Tuesdays & Thursdays, September 14-October 14
Time: 4:15pm to 5:45pm
Cost: $875 for 10 sessions
---
Snack and Play Program | In-person | For children ages 3-5
Duration: 90 minutes, 1x weekly for 12 weeks
Dates: Thursdays, October 7-January 20
            (No Sessions 11/11, 11/25 & 12/23)
Time: 9:15am to 10:45am
Cost: $2200 for 24 sessions (12 Snack & Play sessions & 12 Parent Education sessions)
---
Head Chefs | In-person | For teens ages 13-17
Duration: 90 minutes, 1x weekly for 6 weeks
Dates: Wednesdays, October 13-November 17
Time: 4:15pm - 5:45pm
Cost: $530 for 6 sessions
---
Food Scientist Club | In-person | For children ages 8-12
Duration: 90 minutes, 1x weekly for 7 weeks
Dates: Tuesdays, November 2-December 21
            (No sessions Thanksgiving week)
Time: 4:15pm to 5:45pm
Cost: $620 for 7 sessions